Back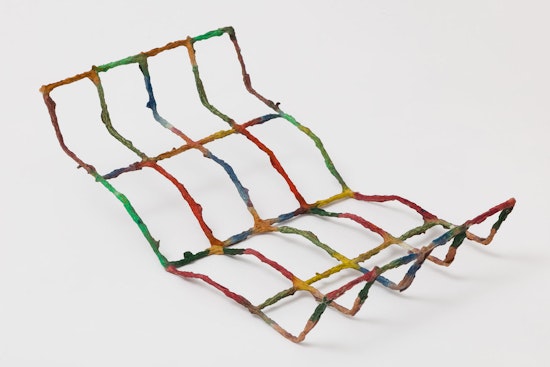 Alan Shields
Bucket
1977-79
Metal wire wrapped in dyed paper
13 3/4 x 8 1/4 x 3 3/4 inches

$5,500
About the Artist
Alan Shields (1944 - 2005) is known for making art out of just about anything, often using sewing techniques coupled with painting, tie-dying, or wire bending. The critic Robert Hughes called Shields, "a brilliant bricoleur." 
Shields came to the notice of the art world virtually overnight after an exhibition in 1969 at the Paula Cooper Gallery, New York. By the mid-70's Shields was a focus of the contemporary art world and in 1973 was featured on the cover of Artforum. 
Today Shields' work can be found in the collections of many major American museums, including the Smithsonian Institute in Washington and the Museum of Modern Art in New York.
FCA Exhibition History
"Drawings: To Benefit the Foundation for Contemporary Performance Arts"
November 29–December 20, 1980
Leo Castelli Gallery
420 West Broadway
"Sonia Louise Davis Selects: Exhibition and Sale to Benefit the Foundation for Contemporary Arts"
December 9-December 18, 2021
Greene Naftali
508 West 26th Street, Ground Floor
This work was donated by the artist in support of FCA's grant programs.