Back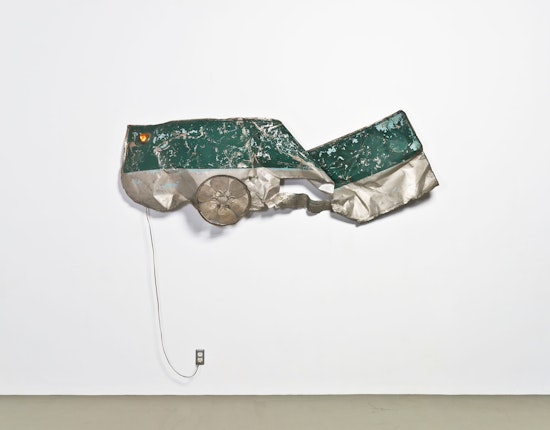 Robert Rauschenberg
Nasturtium Summer Glut
1988
Aluminum, steel, electric light
29 x 84 x 12 inches

$1,000,000
About the Work
Robert Rauschenberg—a member of the circle artists who, together with co-founders Jasper Johns and John Cage, launched the Foundation for Contemporary Arts (FCA) in 1963—contributed Nasturtium Summer Glut to the 1988 benefit exhibition celebrating FCA's 25th anniversary.
Nasturtium Summer Glut belongs to Rauschenberg's influential Gluts series. While in Houston for an exhibition of his work in 1985, Rauschenberg was struck by the devastating effect of the oil glut on Texas's economy. Gas stations and drilling rigs were shut down, and cars and oil barrels were abandoned by the side of the road. Drawn to these materials in their abandoned state, upon returning to Captiva Rauschenberg began collecting scrap metal and embarked on this series of wall reliefs and freestanding assemblages.
On the meaning of the Gluts, Rauschenberg said: "It's a time of glut. Greed is rampant. I'm just exposing it, trying to wake people up. I simply want to present people with their ruins... I think of the Gluts as souvenirs without nostalgia. What they are really meant to do is give people an experience of looking at everything in terms of what its many possibilities might be."
Curator Sonia Louise Davis has selected Rauschenberg's Nasturtium Summer Glut and Suzanne Jackson's Pretentious Luminations, 2021, as prompts for the Foundation's seventeenth benefit exhibition. Davis states: "Both artists' respective bodies of work highlight how we [artists] are always embedded within larger ecosystems, even when we have relatively solitary studio practices. Jackson's artist-run Gallery 32 presented exhibitions by peers inside her LA studio in the late 60s, and Rauschenberg performed in works by other artists throughout his life and supported generations of practitioners even after his death. I find personal inspiration in their dedication to materiality, (re)invention, and critical environmental sensitivity." 
In honor of Robert Rauschenberg's lifelong passion for dance and his friendships with early FCA Grantees Merce Cunningham and Trisha Brown, the Foundation's Board has determined that proceeds from the sale of Rauschenberg's Nasturtium Summer Glut, 1988 will endow The Viola Farber Dance Artist Award.
FCA Exhibition History
"The 25th Anniversary Exhibition to Benefit the Foundation for Contemporary Performance Arts, Inc."
December 8–30, 1988
Simultaneous showings at:
Brooke Alexander, 59 Wooster Street
Leo Castelli Gallery, 420 West Broadway
"Sonia Louise Davis Selects: Exhibition and Sale to Benefit the Foundation for Contemporary Arts"
December 9-December 18, 2021
Greene Naftali
508 West 26th Street, Ground Floor
This work was donated by the artist in support of FCA's grant programs.