Sonia Louise Davis Selects
Exhibition and Sale to Benefit the Foundation for Contemporary Arts
December 9-18, 2021
Greene Naftali Gallery
This is the seventeenth Foundation for Contemporary Arts (FCA) benefit exhibition. Extending the "artists for artists" history of the organization, FCA invited artist Sonia Louise Davis to serve as curator. Davis has generously supported FCA for many years through service on grant panels and as an artist contributor.
Interested in the connection among artists, Davis took works by Suzanne Jackson and Robert Rauschenberg on view here as her curatorial framework.
106 artists have generously donated the works in this exhibition to benefit FCA's programs of support for individual artists.
On Saturday, December 18 at 3PM, there will be a performance by Ashley Grier who will respond to works on view in the exhibition through voice and movement. Grier is an interdisciplinary artist who utilizes her background as a classically trained singer and performer to create mythologies and build worlds with and around the human voice and body.
From the Curator, Sonia Louise Davis
"Artists for artists," the Foundation for Contemporary Arts' guiding principle, should be a mantra. Curating this year's benefit exhibition has been both an honor and a charge. The urgency of our present moment demands the kind of care I witness within the communities I'm a part of. As artists, we never do our work alone. We recommend our peers, assist our mentors, show up for friends at their exhibitions and performances. Community is an active verb—it's something we must do.
Download Checklist
I received FCA's timely support twice via Emergency Grants when rapidly approaching exhibitions seemed almost impossible to pull off. In the years since, I have told countless other artists about this lifeline, especially those who show and perform at non-profits and artist-run venues. When the world shut down in March 2020, FCA quickly pivoted their grant programs towards cancelled opportunities, putting much needed funds in the hands of thousands of individual choreographers, composers, artists, and poets.
My curatorial frame takes shape around two moons: Pretentious Luminations, 2021 by Suzanne Jackson, and Nasturtium Summer Glut, 1988 by Robert Rauschenberg, a piece he donated to that year's benefit exhibition celebrating the Foundation's 25th anniversary. Both artists' respective bodies of work highlight how we are always embedded within larger ecosystems, even when we have relatively solitary studio practices. Jackson's artist-run Gallery 32 presented exhibitions by peers inside her LA studio in the late 60s, and Rauschenberg performed in works by other artists throughout his life and supported generations of practitioners even after his death. I find personal inspiration in their dedication to materiality, (re)invention, and critical environmental sensitivity.
With these two works in mind, I began compiling my invitations. I thought of artists who should know about the work the Foundation does as well as artists whose work should be known to the Foundation. I also asked groups of friends, couples who collaborate and create separately, and those whose work I have long admired but who I have never met.
A spirit of generosity permeates this show from every corner, not only evidenced by the quality and quantity of the works donated, but also by the associated in-kind offers—framing, trucking, space—all of which speak to the robust network of support the Foundation for Contemporary Arts continues to cultivate. In the midst of ongoing challenges, may "artists for artists" remind us of the deep ties within and across our expanded field and lead us towards collaborative, interconnected futures.
—Sonia Louise Davis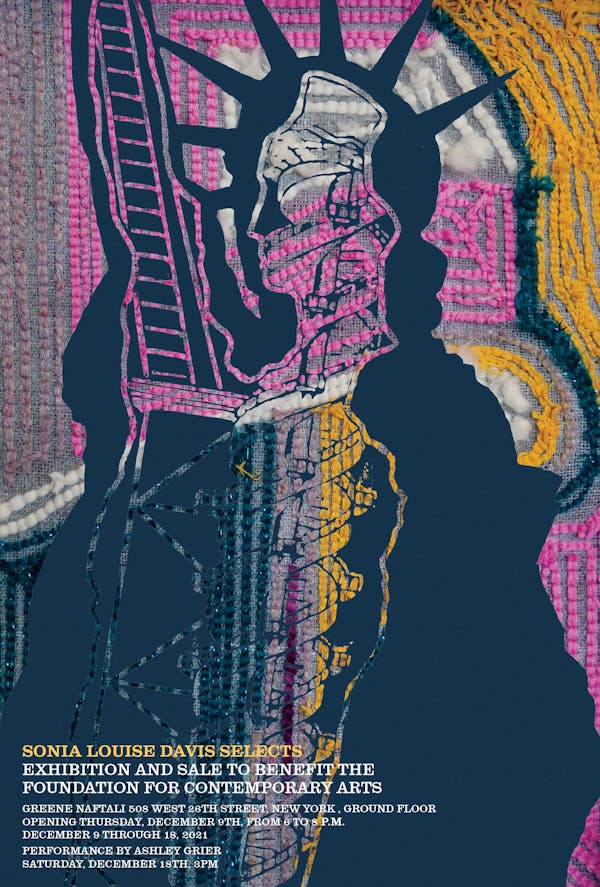 Yuji Agematsu
Lisa Alvarado
Mimi Bai
Bianca Beck
Colleen Billing
Cecily Brown
Zoë Buckman
Esteban Cabeza de Baca
John Cage
Paul Chan
Alex Chaves
Anne Collier
Gaby Collins-Fernandez
Sonia Louise Davis
Erika deVries
Steve DiBenedetto
Leah Dixon
Florencia Escudero
Sarah Faux
Rochelle Feinstein
Raque Ford
Ivan Forde
Robert Gober
Camilo Godoy
Nan Goldin
Cleve Gray
Naima Green

Marcia Hafif
Heather Hart
Meena Hasan
Heidi Howard
Iris Yirei Hu
Jacqueline Humphries
Suzanne Jackson
Jasper Johns
Jennie C. Jones
Michael Joo
Wyatt Kahn
Millie Kapp and Matt Shalzi
Alex Katz
Jon Kessler
Gelare Khoshgozaran
Nancy Y. Kim
Ajay Kurian
Ralph Lemon
Julian Lethbridge
Glenn Ligon
Sam Moyer
Pam Lins
Becca Lowry
Nick Mauss
Suzanne McClelland
Leeza Meksin
Tanya Merrill

Wardell Milan
Azikiwe Mohammed
Eliza Myrie
Sophy Naess
Dona Nelson
Tammy Nguyen
Ken Okiishi
Precious Okoyomon
Okwui Okpokwasili and Peter Born
Kambui Olujimi
Sheila Pepe
Mai-thu Perret
Peter Perry
Shani Peters
Judy Pfaff
Julia Phillips
Valerie Piraino
Lari Pittman
Estefania Puerta
Martin Puryear
Jessica Rankin
James Rauchman
Robert Rauschenberg
Andy Robert
Matana Roberts
Halsey Rodman
Carlos Rosales-Silva

Rachel Rose
Joseph Santore
Jimena Sarno
Keisha Scarville
Harry Schleiff
Michelle Segre
Alan Shields
Gedi Sibony
Cal Siegel
Amy Sillman
Xaviera Simmons
Kiki Smith
Richard Smith
Kara Springer
Mildred Thompson
Marcela E. Torres
Meg Turner
Sam Vernon
Patrice Renée Washington
James Welling
T.J. Wilcox
Kiyan Williams
Deborah Willis
Sarah Zapata
Molly Zuckerman-Hartung