Adam Chodzko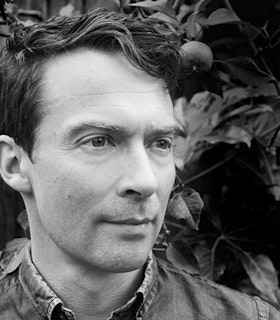 Among the many rules that artists decide to apply to that 'free' space they appear to be working in are ones governed by economic factors. And you can end up nurturing these; 'Hey, I'm an artist using a camera that doesn't even work!' There are of course more interesting challenges, and the FCPA award helped me find those.
- Adam Chodzko, May 10, 2004
Artist Statement
I am a visual artist. My practice explores the interactions and possibilities of human behaviour, in the gap between how we are and how we could be. Exhibiting work nationally and internationally since 1991, working across media, from video installation to subtle interventions, and with a practice that partly is sited within the gallery space and partly within the wider public realm, my work investigates our collective imagination by wondering how, through the visual, we might best engage with the existence of others.
I propose new relationships between our value and belief systems, examining their affect on our communal and private spaces and working with the documents and fictions that control, describe, and guide these systems and spaces: assemblies of owners of a particular jacket; a reunion of the children "murdered" in a Pasolini film; a god look-alike contest; a London gallery's archive given to a group of Kurdish asylum seekers to edit and hide outside the capital; a late night parade of nocturnal animals to the Frieze Art Fair, London; a vessel for visiting the dead...
Often working directly with the networks of people and places that surround me, frequently using forms of anthropology, I focus on the relational politics of culture's edges, endings, displacements, transitions, and disappearances through a provocative looking in the "wrong" place. My practice operates between documentary and fantasy (especially in the form of "science fiction," using art to propose alternative realities), conceptualism and surrealism, and public and private space, often engaging reflexively and directly with the role of the viewer.
- 2014
Biography
Adam Chodzko is a visual artist who works in a variety of mediums, including video, photography, drawing, text, installation, performance, and public intervention. Chodzko's projects investigate what it means to be human and function as part of a community, through works that connect the mundane and imaginary worlds.
During Chodzko's 2002 FCPA grant period, he created works including Plan for a Spell, the 81-image 35mm slide projection cell-a 2016, the 10-minute DVD Limbo Land, and the book Romanov. Plan for a Spell is a single screen projection that features footage of eccentric English rites and banalities that rearranges at random upon each viewing.
After receiving his 2002 Grants to Artists award, Chodzko's work was the subject of solo exhibitions at Herbert Read Gallery, Kent Institute of Art and Design, Canterbury; Els Hanappe Underground, Athens; Carlier Gebauer, Berlin; Museo d'Arte Moderna di Bologna; Signal, Malmö, Sweden; Tate St Ives, Cornwall, United Kingdom; Siakos.Hanappe, Athens; Neue Alte Brücke, Frankfurt; Benaki Museum, Athens; and Marlborough Contemporary, London. Chodzko's work has been included in many British Council curated international exhibitions of British Art, including Micro/Macro: British Art 1996-2002 (2003) at Mucsarnok Kunsthalle, Budapest; Breaking Step (2007) at Museum of Contemporary Art, Belgrade; and Private Utopia (2014) at Tokyo Station Gallery, Japan.
Subsequent to his 2002 Grants to Artists award, Chodzko's work has also been included in group exhibitions at Cecil Sharpe House, London; MoMA PS1; Chapter Art Gallery, Cardiff; Studio Voltaire, London; CCA Wattis Institute for Contemporary Arts, san Francisco; Tate Britain; White Columns; The Aspen Art Museum; Museum of Contemporary Art, Belgrade; Galleria Franco Noero, Turin; Glucksman Gallery, Cork; Vox Populi, Philadelphia; Fruitmarket Gallery, Edinburgh; Barbican Art Gallery, London; Tang Contemporary Art, Beijing; Zoo, London; Courtauld Gallery, London; Museum of Contemporary Art, Lodz; Futura Centre for Contemporary Art, Prague; Norwich Castle Museum, Norfolk; and Galeria Marlborough, Barcelona; among others. Chodzko exhibited work in the Venice Biennale (1995), Athens Biennale (2009), Folkestone Triennial (2008), and Istanbul Biennial (2009). Chodzko's work has been commissioned by Creative Time, The Contemporary Art Society, Frieze Art Fair, Hayward Gallery, and Film and Video Umbrella.
After receiving his 2002 FCPA grant, Chodzko received an award from the Paul Hamlyn Foundation (2002), a AHRC Creative Research Fellowship in the Film Department at the University of Kent, Canterbury (2007), a Liberty Kent Public Art Award (2011); and he held a Visual Art Residency at Cove Park, Argyll and Bute in Scotland (2010).
He received a B.A. in Art History from University of Manchester in 1988 and an M.A. in Fine Art from Goldsmiths College, London in 1994.