Adrienne Truscott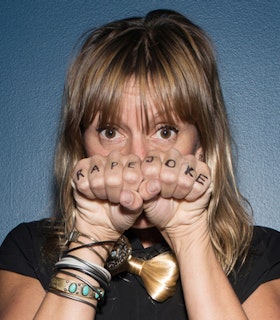 Receiving the news was thrilling and terrifying—thrilling because it was so very unexpected and came at a moment when funding for a project had been unceremoniously halved; terrifying in that I answered the call via speaker while driving to work at The Kitchen, instantly began crying with happiness and surprise and wondered if I might crash the car. Good news! I didn't crash and completed said project (entitledTHIS)—with the Foundation's help—and it was nominated for a Bessie for Outstanding Production.
- Adrienne Truscott, December 13, 2017
Artist Statement
I make work in terms of choreographic composition—a form that best allows for broad investigation and varied possibilities. While at present my work stems from text more than movement its logic remains tethered to locating it in an abstract understanding of time and space. I engage genres that look, act, and intend differently with the belief that live performance engages the radical act of paying attention. The works are held uniquely in common by this understanding of composition, enabling it to remain clear while being complex, sophisticated while accessible, available yet mysterious, personal while layered in abstraction, entertaining yet rigorous, and serious about being humorous. I seek out different environments for my work rather than relegating it to specific economic, social, aesthetic, or geographic contexts. I'm curious about how modes of presentation (experimental, international, commercial, illegal venues) interact with different forms (dance, cabaret, theater, comedy) and how that can upend assumptions that accompany these forms and their target audiences, respectively. I'm committed to investigating any genre insomuch as it seems the most appropriate (or inappropriate) or provocative form by which to actualize the work. I'm attracted to the possibility of failure as a mandate for rigor.
- December 2016
Biography
Adrienne Truscott is an independent writer, choreographer, and director whose work straddles the genres of dance, theater, circus, stand-up comedy, story telling, cabaret, and live music.
Truscott's 2017 Grants to Artists awards supported the development and premiere of THIS (2017) at New York Live Arts. THIS, a solo that explored what it means to make art while in a female body in the context of the 2017 political landscape, was nominated for a New York Dance and Performance "Bessie" Award for Outstanding Production. Prior to her FCA support, Truscott's blistering satire about rape culture disguised as stand-up comedy, Adrienne Truscott's Asking For It: A One-Lady Rape about Comedy Starring Her Pussy and Little Else! (2013), was performed, by design, in most imaginable venues—comedy club, theater, circus tent, university classroom—and is widely credited with helping to shape the evolving international conversation about sexual assault. Her group choreographic works such as they will use the highway (2005); genesis, no! (2007); and ha! a solo (2011), have been presented in New York by the American Realness festival, Dance Theater Workshop, Movement Research at Judson Church, Performance Space 122, and The Kitchen, and in Dublin, Ireland by Project Arts Centre.
Truscott is one half of the boundary-busting circus/cabaret/comedy act The Wau Wau Sisters that has performed on various stages ranging from the streets of small towns; iconic rock venues like CBGB and Irving Plaza in New York and The Roundhouse in London, United Kingdom; The Sydney Opera House, Sydney, Australia; and on The Jimmy Kimmel Show, Sharon Osbourne TV shows, and in John Cameron Mitchell's cult film Shortbus. As a performer, Truscott has collaborated with Sarah Michelson, Deborah Hay, David Neumann, Linda Austin, Circus Amok, and DANCENOISE, and was a founding member of Sarah East Johnson's LAVA.
Truscott was named a Doris Duke Impact Award Artist (2014), an Adelaide Fringe Artist Ambassador (2017), and is a contributing writer for The Guardian. Her essays have been published in several journals and two anthologies, Between Us: Women of Letters (Viking, 2014) and Doing It: Women Tell the Truth about Great Sex (Penguin, 2016).