Aki Sasamoto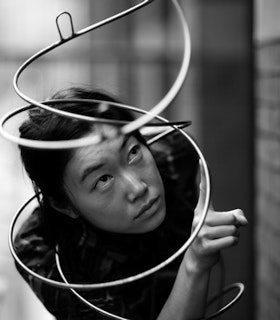 Every project has this ? time, while I make visits to strange sites and people that may or may not have much to do with still unsettled themes, and while I purchase multiple kinds of fabrics and hardware to test whether I can even make anything with those. Usually this time and purchases are not listed under my production budget, but it certainly is the cost of my studio practice. In fact this nonsense state of scattered activities is actually the core of my creative process. So I bite my tongue and just grip my credit card firmly. This happens every time. When I received the phone call from the Foundation, I was in the brainstorming phase for a solo exhibition at The Kitchen... The urge to meet perfect materials is at odds with trying not to worry about spending. My head was almost turning into a pressure cooker of a belief system, convincing myself to purchase an industrial sewing machine. Then I got your phone call, and I immediately drove to the person from Craigslist [who was selling the sewing machine]. The immediate effect of the award was this burst of energy and confidence in bumping up the production level to my liking.
- Aki Sasamoto, December 11, 2017
Artist Statement
When I meet key concepts, physical materials, or movements, I freeze-dry them in a state of pause; within reach, without touching. My process resembles fishing; I cast a net, and wait for a perfect alignment of events. I hold multiple things floating around and somehow seize the connections by putting them in line with other seemingly foreign references. When it works, each element grows its relevance and poetic metaphor to start 'meaning.' I would then listen carefully to what it tries to 'mean' and work with these meanings until I understand that something may have had a meaning to begin with.
In process or in performance, I use structural improvisation. Objects in my installation act as scores, expanding and limiting the boundary of the world of improvisation. The body simply responds with decisive gestures, unfolding the possible stories. These stories seem personal at first, yet oddly open to variant degrees of access, relation, and reflection.
- December 2016
Biography
Aki Sasamoto works in sculpture, installation, performance, dance, and whatever other media are necessary to get her ideas across. Her installations function as careful arrangements of sculpturally altered found objects, with the decisive gestures of her improvisational performances responding to the sounds, objects, and moving bodies that are present.
Sasamoto's 2017 Grants to Artists award supported the development of Yield Point (2017), a solo exhibition of video, sculpture, and performance at The Kitchen, New York. Sasamoto's notable works prior to her FCA support include Delicate Cycle (2016), an installation exploring the hoarding activities of scarab beetles; Food Rental (2015), in which Sasamoto staffed a food cart in a public park offering a menu of micro-performances; and Skewed Lies (2010), a performance of idiosyncratic narratives evolving throughout time and space.
Sasamoto has exhibited her large-scale performative installation works at the Yokohama Triennial (2008); the Whitney Biennial, New York (2010); PS1's Greater New York, Long Island City (2010); the Gwangju Biennial, Gwangju, South Korea (2012); and the Shanghai Biennale, Shanghai, China (2016). Her works are also featured in the field of experimental dance theater, and have been presented by Chocolate Factory Theater, The Kitchen, and Movement Research. Solo exhibitions of her work include Strange Attractions at Take Ninagawa, Tokyo, Japan (2009); Secrets of My Mother's Child at Jerome Zodo Contemporary, London, United Kingdom (2011); No Choice at Harmony Murphy Gallery, Los Angeles (2014); and Delicate Cycle at SculptureCenter, Long Island City (2015).
Sasamoto was awarded a Visual Art Grant Award from the Rema Hort Mann Foundation (2007), the Oscar Williams and Gene Derwood Award from the New York Community Trust (2012), and was named a Cultural Envoy by the Japanese Agency for Cultural Affairs (2016). Sasamoto received her M.F.A. from Columbia University in 2007, and has been invited to give lectures and workshops at numerous colleges in departments of Dance, Mathematics, Music, Physics, Visual Arts, and Writing. She is an assistant professor of Sculpture at Rutgers University, Mason Gross School of the Arts.