A.L. Steiner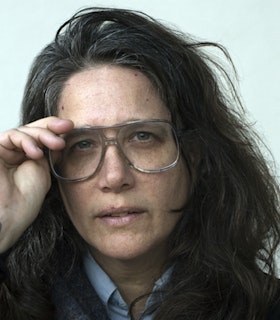 My $40,000 unrestricted FCA grant was used to assist with the systematizing and digitization of my print film archive, as well as participate in the group purchase of a residential property in Brooklyn for the first time since I moved to New York in 1993. With half of the FCA grant, I was able to begin the process of digitizing my photo archive with professional assistance. The ongoing digitization process is an essential part of organizing and preserving the materiality of my work. Before receiving the grant, I did not have the funds to begin this laborious process... The other half of my grant went towards the purchase of my first permanent residence... we now possess a financial asset and security from eviction... Additionally, part of the property has a space that we are able to rent at a below-market rate. We felt this was a way to collectively lessen our precarity, as well as contribute to the preservation of an artistic community under threat within a largely unregulated and inflated housing market.
- A.L. Steiner, December 10, 2017
Artist Statement
My artwork utilizes constructions of photography, video, collage, curation, performance, writing, and installation as seductive tropes channeled through the sensibility of an ecofeminist androgyne. I seek to dismantle homo economicus in a post-semantic omnicidal world. Studio practice, exhibitionism, talks, direct action, meetings, discussions, encounters, interventions, magik, play, and collaboration propel my dedication to vitality, learning, and transformation on planet Earth. I stand in opposition to annihilation and destruction in the capitalocene.
- December 2016
Biography
A.L. Steiner utilizes constructions of photography, video, installation, collage, collaboration, performance, writing, and curatorial work as seductive tropes, channeled through the sensibility of a skeptical queer ecofeminist androgyne.
Steiner's installations, often involving photography and photo archives, include Come & Go (2015), an interactive installation of the artist's personal photo archive, and Puppies & Babies (2012), where images of pets, pregnancy, and children were culled into a large-scale collage. Her video and performance works include Times Square S.C.U.M. MANifesto (2011), made with Nicole Eisenman, where visitors to Times Square were asked to read from Valerie Solanas' 1967 SCUM Manifesto, and Community Action Center (2010), made with A.K. Burns, which considers feminist fashion, sexual aesthetics, and an expansive view of what is defined as "sex." Steiner co-directed the music video for the song "Rub" by Peaches (2015).
Steiner's work has been included in the Whitney Biennial, New York (2014); Made in L.A., Los Angeles (2014); and the SeMA Biennale: Mediacity Seoul, Seoul, South Korea (2016), and has been exhibited at Artspace Sydney, Sydney, Australia; Centro Cultural Montehermoso, Vitoria-Gasteiz, Spain; Creative Time, New York; the Columbus Museum of Art, Columbus; Contemporary Arts Museum Houston, Houston; Contemporary Art Museum St. Louis, St. Louis; Institute of Contemporary Art, Boston, Boston; Institute of Contemporary Art, Philadelphia, Philadelphia; The Kitchen, New York; National Museum of Modern Art, Kyoto, Kyoto, Japan; Portland Institute of Contemporary Art, Portland; Museo Nacional Centro de Arte Reina Sofía, Madrid, Spain; Tate Modern, London, United Kingdom; and the Zachęta National Gallery of Art, Warsaw, Poland. Her work is included in the permanent collections of the Brooklyn Museum of Art, Brooklyn; Marieluise Hessel Collection of Contemporary Art at Bard College, Annandale-On-Hudson; Museum of Contemporary Art, Los Angeles, Los Angeles; Hammer Museum, Los Angeles; and the Museum of Modern Art, New York.
Steiner is co-curator of Ridykeulous, a curatorial initiative that mounts exhibitions of queer and feminist art; co-founder of Working Artists and the Greater Economy (W.A.G.E.), an activist organization that seeks to establish sustainable labor relations between artists and nonprofit arts institutions; and a collective member of Chicks on Speed, a music and fine art ensemble.
Steiner is the recipient of an Art Matters Grant (2010); the Tiffany Foundation Biennial Award (2015); and the American Academy in Berlin Prize (2015-16). She was appointed as critic in photography at Yale University (2016), and teaches in the M.F.A. programs at Bard College and the School of the Art Institute of Chicago.