Alice Notley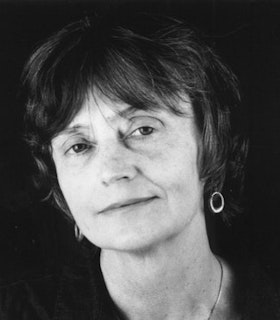 The grant came at a very propitious moment… It made [my husband and I] think 'things were possible.' I've held on to some of the grant to ease us into this new period in our lives when we won't have very much to live on but will feel freer.
- Alice Notley, January 17, 1999
Biography
Alice Notley began her career as an active poet in the New York poetry scene of the 1960s and 1970s. She is often identified with the Second Generation New York School of poets, though her work frequently changes in form and style.
Notley is the author of over twenty five books of poetry, including 165 Meeting House Lane (1971), Incidentals in the Day World (1973), Phoebe Light (1973), Alice Ordered Me to Be Made (1976), For Frank O'Hara's Birthday (1976), From the Beginning (2004), Alma, or the Dead Women (2006), In the Pines (2007), Culture of One (2011), Songs and Stories of the Ghouls (2011), Dr. Williams' Heiresses (1980), Waltzing Matilda (1981), Margaret & Dusty:Poems (1985), From a Work in Progress (1988), Homer's Art (1990), To Say You (1993), Selected Poems of Alice Notley (1993), The Descent of Alette (1996), and FCPA-supported Reason and Other Women (2010), among many others. In addition to collections of poetry, Notley has published the autobiography Tell Me Again (1982), the play Anne's White Glove (1985), and Coming After (2005), a book of essays on poets and poetry. She edited and wrote the introduction for the reissue of Ted Berrigan's The Sonnets (2000), as well as editing, with her sons, The Collected Poems of Ted Berrigan (2007).
Since receiving her 1997 Grants to Artists award, her collection Disobedience (2001) was awarded the Griffin International Poetry Prize (2002), and Grave of Light: New and Selected Poems, 1970-2005, received the Lenore Marshall Poetry Prize (2007). In 2011, Notley received an Academy Award from the American Academy of Arts and Letters, and the Shelley Memorial Award from the Poetry Society of America. She has also been a finalist for the Pulitzer Prize. Previous to receiving her FCPA grant, Notley's How Spring Comes (1981) received the San Francisco Poetry Award (1982), and her Mysteries of Small Houses (1998) won the Los Angeles Times Book Prize (1998).
Notley earned her B.A. from Barnard College and M.F.A. from the Iowa Writers' Workshop.