Alix Pearlstein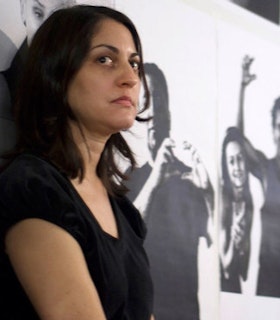 The grant has enabled me to enact a long overdue shift in the way I develop and produce my work. It gave me the capability to build a better support structure and take more time in the development and production process... The immaterial gains have and will remain unquantifiable.
- Alix Pearlstein, January 2012
Artist Statement
The point of resistance generated by inserting acting into a space usually reserved for performance is the impetus behind my current work. Drama, emotionality, psychological problems, accidents, and bad-hair days occupy a field in between the theatrical and the cinematic––drawn from minimalism, structuralist film, postmodern dance, video, and performance art. A particular article of clothing, a rude interruption during an intimate moment, or the assertion of a name addressed directly to the viewer can deliver crucial clues to time, place, and feeling—or push you up against a mirrored wall.
- December 2010
Biography
Alix Pearlstein's work in video, installation, and performance has been widely exhibited. She works with ensemble groups of actors, mining their professional skills and subjectivity to explore character, behavior, motivation, relationships, group dynamics, and social constructs—while foregrounding the codes of acting and performance.
Pearlstein used funds from her 2011 Grants to Artists award to produce a new body of work comprised of five related single-channel videos, The Drawing Lesson, Moves in the Field, Light, Security, and Procession, all from 2012.
Her work has been the subject of solo exhibitions at the Museum of Contemporary Art, Chicago; the Contemporary Art Museum, St. Louis; deCordova Sculpture Park and Museum, Lincoln, Massachussets; Samsøn, Boston; Ballroom Marfa, Texas; Atlanta Contemporary Art Center, Atlanta; On Stellar Rays in New York City; The Kitchen, New York; MIT List Visual Arts Center. Performances have been seen at The Park Avenue Armory, Esopus Space; and Salon 94, New York. Pearlstein's works have been included in exhibitions at Whitechapel, London; the Museum of Contemporary Art, North Miami; the Institute of Contemporary Art, Philadelphia; La Biennale de Lyon, France; and The Museum of Modern Art.
Pearlstein recieved a B.S. from Cornell University (1983), and an M.F.A. from SUNY Purchase (1988). She is on the faculty of the M.F.A. program at The School of Visual Arts in New York City and serves on the Board of Governors of The Skowhegan School of Painting and Sculpture.