Allison Smith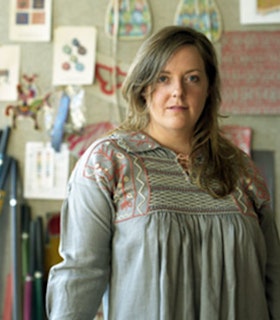 The Grants to Artists Award was a godsend. It enabled me to pay my rent for nearly an entire year... Having this studio space allowed me to spread out, to make messes that didn't need to be cleaned up right away, and to bring older works out of storage so that I could take a step back and see what I was doing, all in one place... I gained valuable time to work in my studio on new projects...
- Allison Smith, January 14, 2009
Artist Statement
My artistic practice investigates the cultural phenomenon of historical reenactment, or Living History, using it as a means of addressing the relationship between American history, social activism, craft, and identity. Living History is founded on the idea that historical events gain meaning and relevance when performed live in an open-air, interactive setting. With craft and war conjoined at its center, this collaborative form of history-in-the-making has been a pivotal focus of my work, offering up a rich set of activities and objects that I bring into association with contemporary art. I utilize the model of the living history museum to rethink the opportunities of exhibition space, and I explore the social function of reenactors' props alongside the performative possibilities of sculpture. Invoking various forms of public convocation such as battle reenactments, peddlers' markets, quilting bees, military musters, parades, and craft fairs, I create temporary social formations driven by themes of conflict and creative democracy. I employ a range of tactile media such as textiles, ceramics, printmaking, and wood furniture to produce performative sculptures, interactive installations, and artist-led participatory projects that rethink, restage, redo, and refigure our sense of collective memory.
My sculptures are imbued with an artifact quality through their association with events and their engagement with the public, whether through activities of collaborative making, activation in social space, or material transformation from one context to the next. Many of these sculptures "play" with forms of official sculpture by bringing traditional statuary and war memorials into association with nineteenth-century children's toys, suggesting socialization, subversive play, and a queering of history. Judith Butler famously theorized the performativity of identity, calling for "a different sort of repeating." Throughout my practice, I engage in a different sort of reenactment, implicating others and myself in processes of identity formation, nationhood construction, and collective myth-making. Positioned between utopian and critical discourses, my work features a polyphony of viewpoints, embracing dissensus and diversity. Drawing attention to the generative and participatory ethos of craft and its capacity to forge ties and potentially enable equality of access, I use craft in a strategic way, allowing it to act as a civic catalyst in the public sphere.

Ultimately, I am interested in crafting sculptures that are conversation pieces in the most ambitious sense, facilitating occasions to engage in both intimate and charged public debate, thereby exposing the limits of conflicting arenas of traditional public sculpture, socially engaged art, and performance. My work has evolved from a constellation of artistic arenas including social sculpture, feminist art, identity politics, and institutional critique and participates in emergent discourses on contemporary sculpture, craft, experimental performance, and social practices.
- December 2014
Biography
Allison Smith is a sculptor and visual artist whose work engages with Living History, the practice of reenacting historical events to recontextualize and reconsider them. Smith engages with social spaces through her public art projects, and the concerns addressed in her work include feminism and identity formation, both of the self and the nation.
Prior to receiving her 2008 Grants to Artists award, Smith had produced solo exhibitions, installations, performances, and artist-led participatory projects for The Armory Show (2005); Studio Voltaire, London (2005); Artpace San Antonio (2006); University of California, Berkeley Art Museum (2007). Her work was featured in group exhibitions at Artists Space (2005), MoMA PS1 (2005), Socrates Sculpture Park (2006), Andy Warhol Museum (2006), MASS MoCA (2006), and Palais de Tokyo (2007).
Smith's 2008 FCA grant supported the creation of her public art project The Donkey, The Jackass, and The Mule (2008), which was performed in a parade organized by the Indianapolis Museum of Art and Jugs, Pitchers, Bottles, and Crocks, Household Linens and Yardage in Stock (2008), a series of stoneware vessels decorated with slogans relating to contemporary catastrophic events, which was presented at the Mattress Factory, Pittsburgh.
Subsequent to her 2008 Grants to Artists award, Smith has exhibited her work in group exhibitions at the Park Avenue Armory (2008), Contemporary Arts Museum Houston (2008), Center for Curatorial Studies at Bard College (2010), Portland Institute of Contemporary Art (2010), CCA Wattis Institute (2010), Atlanta Contemporary Art Center (2011), Yerba Buena Center for the Arts (2011), Santa Barbara Museum of Art (2013), Mills College Art Museum (2014), and Carpenter Center for the Visual Arts at Harvard University (2015), among others.
She has also since had solo exhibitions SFMOMA (2010); The Museum of Contemporary Art Denver (2011); Aldrich Museum, Connecticut (2013); The Arts Club of Chicago (2014); and Signal Center for Contemporary Art, Sweden (2015). Her work is now held in the collections of the Whitney Museum of American Art, Los Angeles County Museum of Art, Saatchi Gallery London, and public and private collections internationally. Smith is represented by Haines Gallery in San Francisco.
Since receiving her 2008 FCA grant, Smith has been honored with an Artadia Award (2009) a Creative Work Fund Grant (2010), a United States Artists Fellowship (2010), and a National Endowment for the Arts Grant. Smith has since held residencies at Headlands Center for the Arts (2010-2012), the International Studio and Curatorial Program in Brooklyn (2012), The Museum of Modern Art Artists Experiment (2013-2014), Carpenter Center for the Visual Arts at Harvard University (2014), and IASPIS in Stockholm, Sweden (2015). She had previously received an Arts Council England Grant (2005) and a New York Foundation for the Arts Fellowship (2007).
Smith attended The New School and received a B.A. in Psychology from Lang College and a B.F.A. in Fine Arts from Parsons School of Design. She earned an M.F.A in sculpture from the Yale University School of Art in 1999 and she participated in the Whitney Museum Independent Study Program from 1999 to 2000. She has lectured on her work at art schools, research universities, and arts institutions. She joined the faculty of California College of the Arts in 2008, where she is a tenured professor and Chair of the Sculpture Program.