Amie Siegel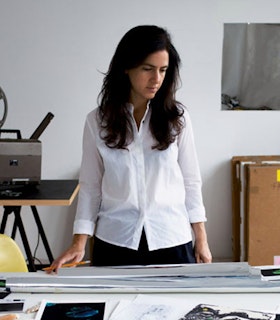 The FCA Grants to Artists Award was (and continues to be) so utterly different than any support I have received partly because the award was so unexpected, but especially because it did not dictate how its funds were to be spent. I could use the support as needed over time, to address production budget shortfalls and studio needs (new software, hiring help, etc.), yet also simply use the support to exist—to live and eat and keep the lights and wifi on, which in turn made possible the continued production of my work.
- Amie Siegel, December 14, 2021
Artist Statement
Not faithful to any singular material, format, or discipline, I remain deeply engaged by the spectrum of seemingly autonomous mediums, sensitive to their alluring or banal properties, harnessing their social, historical, and iconographic connotations to deploy in my work.
These works often trace materials—furniture, rarified marble, images—as well as objects, collections, artifacts, architecture, and design, peeling back the strata of cultural patrimony and patriarchy, the real and the simulated.
I took to heart early Russian filmmaker Sergei Eisenstein's suggestive sentiment that montage is "copulative"—two shots come together to form a third thing, but the third thing is not onscreen. Nor is it an object. It is an idea. It is conceptual. It forms in us.
- December 2020
Biography
Amie Siegel is a visual artist who works with film, video, photography, sculpture, painting, performance, and installation. She is known for her layered, meticulously constructed works that trace the undercurrents of systems of value, cultural ownership, and image-making.
Her solo exhibitions include: Medium Cool, Blaffer Art Museum, Houston, TX (2019); Provenance, Tate St. Ives, Cornwall, United Kingdom (2018); Winter, Guggenheim Museum Bilbao, Bilbao, Spain (2017); Strata, South London Gallery, London, United Kingdom (2017); 12x12: Amie Siegel, Berlinische Galerie, Berlin, Germany (2017); Interiors, Frye Art Museum, Seattle, WA (2017); Quarry, Audain Art Museum, Vancouver, Canada (2017); Double Negative, Museum Villa Stuck, Munich, Germany (2016); Amie Siegel. Part 2: Ricochet, Kunstmuseum Stuttgart, Stuttgart, Germany (2016); Imitation of Life, Temple Bar Gallery + Studios, Dublin, Ireland (2016); Provenance, Museum für angewandte Kunst, Vienna, Austria (2015); The Architects, Storefront for Art and Architecture, New York, NY (2015); Provenance, The Metropolitan Museum of Art, New York, NY (2014); and Amie Siegel. Part 1: Black Moon, Kunstmuseum Stuttgart, Stuttgart, Germany (2011).
Siegel has participated in numerous group exhibitions including at the Institute of Modern Art, Brisbane, Australia; CAPC Musée d'Art Contemporain, Bordeaux, France; Centro Andaluz de Arte Contemporáneo, Seville, Spain; Museum of Contemporary Art and Design, Manila, Philippines; Kunstinstituut Melly, Rotterdam, Netherlands; Swiss Institute, New York, NY; Vancouver Art Gallery, Vancouver, Canada; Haus der Kulturen der Welt, Berlin, Germany; The Glucksman, Cork, Ireland; Dunedin Public Art Gallery, Dunedin, New Zealand; MAXXI Museo Nazionale della arti del XXI secolo, Rome, Italy; Seattle Art Museum, Seattle, WA; Wattis Institute for Contemporary Arts, San Francisco, CA; Museum of Contemporary Art, San Diego, CA; Chapter, Cardiff, United Kingdom; Institute for Contemporary Art, Boston, MA; Walker Art Center, Minneapolis, MN; MoMA PS1, Long Island City, NY; Monash University Museum of Art, Melbourne, Australia; Hordaland Kunstsenter, Bergen, Norway; La Galerie, Centre d'Art Contemporain, Noisy-le-Sec, France; Hayward Gallery, London, United Kingdom; Leeds Art Gallery, Leeds, United Kingdom; and CA2M Centro de Arte Dos de Mayo, Madrid, Spain.
Her work has been featured in the 12th Gwangju Biennial, South Korea (2018); Dhaka Art Summit, Bangladesh (2018); Glasgow International, Scotland (2016); the 5th Auckland Triennial, New Zealand (2013); and the Whitney Biennial, New York, NY (2008). Her films have screened at the Rotterdam, Toronto, Berlin, New York, and Cannes International Film Festivals. Siegel has been a fellow of the DAAD Berliner-Künstlerprogramm, a John Simon Guggenheim Memorial Foundation Fellow, the Fulton Fellow at The Film Study Center at Harvard University, a Sundance Institute Fellow, and a Smithsonian Artist Research Fellow. She has received the ICA Boston's James and Audrey Foster Prize, a Creative Capital Award, and an Anonymous Was A Woman Award.