Amy Gerstler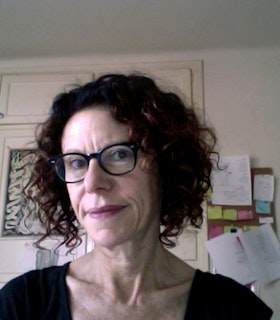 Foundation for Contemporary Arts…was incredibly helpful not only financially but in terms of my morale as an artist… The FCA grant helped buy me time to work on two projects this year. One is a book of poems tentatively titled Index of Women. During the grant period I wrote and revised twenty-five poems for this project, which I think will represent around thirty per cent of the final book. This book is slated to be published by Penguin in 2021… The other project I have been working on during the grant period is a particularly exciting one for me, as it represents a new avenue of pursuit in my life as a poet. I am collaborating with composer/actor Steve Gunderson on a musical called The Artificial Woman. My role in the collaboration is as lyricist and co-writer of the 'book' (script) for this musical play.
- Amy Gerstler, December 19, 2019
Artist Statement
Sex, gender, psychology, illness, and recovery, the body, the occult, the elegiac, women's voices, dramatic monologues, being an animal, and trying to connect to, honor, and understand other animals; altered states, humanism, mortality, and spiritual longing and confusion are all abiding themes in my work. Collage is a technique I lean pretty heavily on at times. I often pull language and phrases from various, maybe quite disparate sources and try to shape them into an unexpected whole using those borrowed vocabularies, images, and/or dictions to pull the text in different directions, as well as to provide throughlines. Comedy is sacred to me, an essential human asset and one of the few real comforts we have, as well as a valuable way of grappling with all kinds of realities, including uncomfortable ones, and a means of poking at and maybe slightly dislodging what oppresses or overwhelms us. Since humor and the imagination are for me two of the main saving graces of being alive, I try to find ways to cleave to them as a writer, often as a method of exploring the darknesses we all face daily.
- December 2018
Biography
Amy Gerstler is a poet whose work addresses themes of redemption, suffering, and survival. In addition to publishing several books of poetry, she has also written fiction, nonfiction, and journalism, and has collaborated with visual artists.
Scattered at Sea (Penguin, 2015), was longlisted for the National Book Award, shortlisted for the Kingsley Tufts Poetry Award, and was a finalist for the PEN USA Literary Award. Dearest Creature (Penguin, 2009) was one of The New York Times's "100 Notable Books of 2009," and was short listed for the L.A. Times Book Prize in Poetry. Crown of Weeds (Penguin, 1997) received a California Book Award, and Bitter Angel (Carnegie Mellon University Press, 1997) won a National Book Critics Circle Award. Gerstler's other published works include Ghost Girl (Penguin, 2004), Medicine (Penguin, 2000), and Nerve Storm (Penguin, 1993).
Her work has appeared in a variety of magazines and anthologies, including The American Poetry Review, Best American Poetry, The New Yorker, The Paris Review, and Norton's Postmodern American Poetry anthology. She wrote monthly reviews in Artforum from 1988 to 1998, was guest editor of The Best American Poetry in 2010, and has written exhibition catalog essays for the Los Angeles Museum of Contemporary Art and the Whitney Museum of American Art. She is currently collaborating on a musical play with composer Steve Gunderson and director and choreographer Javier Velasco.
Gerstler is the recipient of a John Simon Guggenheim Memorial Foundation Fellowship (2018). She teaches in the M.F.A. Creative Writing program at the University of California at Irvine, and has taught writing and visual art at Art Center College of Design, The Bennington College Writing Seminars, California Institute of the Arts, Cal Tech, Pitzer College, and University of Utah. She received a B.A. from Pitzer College and an M.F.A. from Bennington College.