Andrea Fraser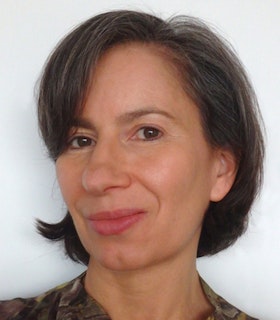 News of my Foundation for Contemporary Arts award came on the heels of the devastating 2016 election. The award lifted my spirits from a deeply depressed and anxious state and bolstered my resolve to devote my energies to understanding and responding to the political, social, and cultural realities revealed by the election. My FCA award helped support a year of organizing, researching, and writing in the election's aftermath... I am deeply grateful to FCA for providing me with deeply meaningful, encouraging, and enabling support at a particularly dark and discouraging time, and for serving as an inspiring model of artistic self-support at a time when the intersection of cultural philanthropy and plutocracy has emerged as a troubling component of our faltering democracy.
- Andrea Fraser, January 24, 2018
Artist Statement
I sometimes describe my work as an ongoing investigation of what we want from art—"we" being not only artists but everyone who invests time, energy, and resources in the art field. My investigation of those investments has vacillated between extremes of social, economic, or political interests and the intimate psychological and emotional aspirations we invest in art. Most of my work is conceived site-specifically. I believe that its impact depends on whether it can activate a critical reflection for those who engage with it on what is at stake for them when and where they engage with it. I consider all art in terms of performance or, better, as enactment. I believe that art activates structures and relations that are then enacted by those who engage with it, whether as physical, social, or psychological processes. I believe that art can impact social and psychological structures only as they are made manifest in such enactment. It can do so by intervening in the everyday processes of internalizing the social world and then externalizing it again. That process is always fractured by social and psychological structures that reproduce internal and external divisions and hierarchies. My work attempts to overcome those divisions by reintegrating split off investments and identifications and by performing across the boundaries of individual social identity.
- December 2016
Biography
Andrea Fraser is an artist whose work has been identified with performance, feminism, and institutional critique. Fraser's notable works include Museum Highlights (1989), in which the artist posed as a tour guide at the Philadelphia Museum of Art, leading visitors to consider "artworks" such as a drinking fountain; Untitled (2003), a video edition documenting a sexual encounter between Fraser and an art collector who pre-purchased a copy of the work; Not Just a Few of Us (2014), a performance for Prospect.3 exploring desegregation struggles in New Orleans; and Down the River (2016), which brought the sounds of Sing Sing prison to the Whitney Museum of American Art's 18,000 square-foot 5th floor.
During her grant year, Fraser developed and wrote 2016 in Museums, Money, and Politics, a 900-page book that includes the records of political contributions of the board members of over 100 U.S. art museums. Fraser has created performances for the New Museum, New York (1986); Philadelphia Museum of Art, Philadelphia (1989); Wadsworth Atheneum, Hartford (1991); inSITE, San Diego/Tijuana (1997); the MICA Foundation, New York (2001); and West of Rome for Pacific Standard Time, Los Angeles (2012). She has performed at Whitechapel Gallery, London, United Kingdom; Dia Art Foundation, New York; The Museum of Modern Art, Vienna, Austria; The Museum of Contemporary Art, Los Angeles; Centre Pompidou, Paris, France; The Museum of Modern Art, New York; Museum Ludwig, Cologne, Germany; and Volksbuehne, Berlin, Germany, among other venues. Fraser has created projects and installations for the Berkeley Art Museum and Pacific Film Archive, Berkeley (1992); Kunstverein Munich, Munich, Germany (1993); the Venice Biennale, Venice, Italy (Austrian Pavilion, 1993); the Whitney Biennial, New York (1993 and 2012); Generali Foundation, Vienna, Austria (1995); Kunsthalle Bern, Bern, Switzerland (1998); Sprengel Museum, Hanover, Germany (1998); the Bienal de São Paulo, São Paulo, Brazil (1998); Steirischer Herbst, Graz, Austria (2010); and Schindler House, Los Angeles (2014). Retrospectives of her work have been presented by Museum Ludwig, Cologne, Germany (2013); Museum der Moderne Salzburg, Salzburg, Austria (2015); Museu d'Art Contemporani de Barcelona, Barcelona, Spain (2016); and Museo Universitario Arte Contemporáneo, Mexico City, Mexico (2016).
Fraser was a founding member of the feminist performance group The V-Girls (1986-1996), who presented panel-like performances at galleries, museums, and universities; the project-based artist initiative Parasite (1997-1998); the cooperative art gallery Orchard (2005-2008); and was co-organizer of the "working-group exhibition" Services (1994- 2001). She has served on the board of Working Artists and the Greater Economy (W.A.G.E.) since 2013.
Fraser's essays and performance scripts have appeared in Art in America, Artforum, October, Grey Room, Texte zur Kunst and Adbusters, among other publications. Her books include A Society of Taste (Kunstverein München, 1993); Report (EA-Generali Foundation, 1995); Andrea Fraser: Works 1984-2003 (Dumont, 2003); Museum Highlights: The Writings of Andrea Fraser (MIT Press, 2005); Texts, Scripts, Transcripts (Museum Ludwig, 2013); Andrea Fraser (Cantz, 2015), Andrea Fraser: de la crítica institutional a la institutión de la crítica (Siglo Veintiuno Editores, 2016) and Andrea Fraser Collected Interviews 1990-2018 (A.R.T. Press and Koenig Books, 2019).
Fraser was the recipient of a National Endowment for the Arts Visual Arts Fellowship (1991); an Anonymous Was A Woman Fellowship (2012); the Wolfgang Hahn Prize (2013); and the Oskar Kokoschka Prize (2016). Fraser is chair of the Department of Art at the University of California Los Angeles, and a visiting faculty member at the Whitney Museum of American Art Independent Study Program.