Angel Lartigue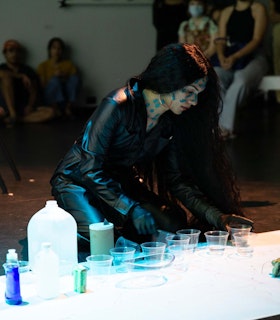 Artist Statement
All my work is what I define as a process of "putrefaction," one of the biological stages of decomposition. This research has led me to study human decomposition and archaeological techniques of exhumation, and propel these studies into the biological arts, site-specific ceremonial rituals, sculpture, drawing, and essay writing. My work is the story of many types of transitions by embracing the context of the land and body, the line between biological life and death, and our own personal transformations.
- December 2022
Biography
Angel Lartigue is a curatorial and artistic researcher whose work explores the relationship between the body and land through the use of "putrefaction" matter as raw material. This concentration has led her to experimenting with archaeological processes of decomposition in artworks, incorporating fungi, insects, and even odors captured during fieldwork.
Lartigue's Bacteriomancy (2022), a two-part performance, explores how living matter can carry memories of pandemics past and present brought about by colonialism, imperialism, and military occupation. For the group exhibition unending beginnings at University of Southern California Roski School of Art and Design, Los Angeles, CA (2022), Lartigue incorporated organic matter such as seaweed collected from neighboring coastlines and extracted agar nutrients from the seaweed to grow bacteria and fungi in acrylic purses. Bacteriomancy culminated in a ritual performance during which Lartigue dissected and mummified a lamprey.
Lartigue's solo exhibitions include Por los siglos de los siglos, Wedge Space Houston Community College, Houston, TX (2019) and La ciencia avanza pero yo no (Science Advances But I Do Not), BOX13 ArtSpace, Houston, TX (2017). She has performed and shown work in group exhibitions at the Outsider Art Museum, Amsterdam, Netherlands (2022); DiverseWorks, Houston, TX (2022, 2019); The Latinx Project at New York University, New York, NY (2021); and Art League Houston, Houston, TX (2019), among others. Lartigue designed the label book, La ciencia avanza pero yo no (2017), which is in the rare books collection of the Museum of Fine Arts, Houston Hirsch Library, Houston, TX. She participated in the international conference "Taboo-Transgression-Transcendence in Art & Science 2020," hosted by the University of Applied Arts Vienna, Vienna, Austria, presenting her essay "Science at the Club: Putrefaction as an Artistic Medium."
Lartigue has been awarded grants for collaborative projects through the Idea Fund (2022, 2021) and U.S. Latinx Art Forum's CHARLA Fund (2021). She was an honorary research fellow to the artistic laboratory SymbioticA at the University of Western Australia (2020).
Lartigue has undergone training in human remains recovery at the Forensic Anthropology Center at Texas State.