Ann Carlson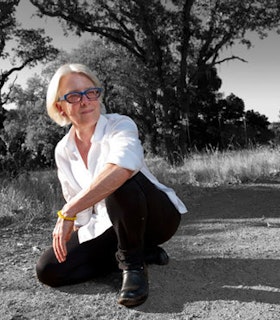 I so much appreciate the work of the Foundation and remain deeply grateful to have received the support.
- Ann Carlson, May 1, 2000
Artist Statement
I make performance. I begin with an image, an idea, a movement, or a story. I love the functional, basic, "naïve" movement of the human body. I love the human body working, playing, getting up, sitting down, gestures that accompany speech or sport, worship, or stillness. I love reframing what is familiar in order to re-see it. Whether it's a photograph, or a dog, a mountain, or a lawyer; I love making work that opens the heart and invites all aspects of this messy life into a new arena.
- 2014
Biography
Ann Carlson's work borrows from the disciplines of dance, performance, theater, visual, and conceptual art. Her work often dismantles conventional boundaries between artist and subject. Carlson's work takes the form of solo performance, site-specific projects, ensemble works for dance companies, as well as theatrical works and performance/video.
Carlson's time spent as a guest artist at Stanford University inspired her work The Symphonic Body (2013). This work builds on Carlson's twenty-five year practice of developing works that are made with and performed by people gathered together by a common profession, activity, or shared passion. The first work of this series, Sloss, Kerr, Rosenberg & Moore (2007), is made with and performed by four New York attorneys. The Symphonic Body is a performance/orchestral work made entirely of gestures. Carlson shadowed seventy-eight people from across campus—students, professors, staff, ground service workers, deans, and provosts––and built gestural portraits for each individual based on the motions of their workday.
Carlson's work has been seen in theaters, galleries, museums, and concert halls, as well as in hotels, swimming pools, and landscapes throughout the United States, Europe, and Mexico. She has also made a number of performance works with animals. Carlson's collaboration with video artist Mary Ellen Strom, resulted in several single channel performance videos that are held in private and museum collections. In addition, Carlson/Strom made a large-scale site-specific work, Geyserland (2003), in which the audience went on a train and traveled twenty-five miles over the Bozeman Pass in Montana.
Subsequent to receiving her FCPA grant, Carlson received a John Simon Guggenheim Memorial Foundation Fellowship (2003), a New York Foundation for the Arts Fellowship (2003), a Radcliffe Institute for Advanced Studies Fellowship at Harvard University (2004), a Rockefeller Seed Grant, two American Masters Awards, support from Creative Capital's MAP fund program (2005, 2014), three awards from the National Choreographic Initiative, and a Doris Duke Award for New Work (2015). In 2013, Carlson was invited by the Robert Rauschenberg Foundation to be an artist-in-residence on Captiva Island, Florida. She has also been a guest artist at the University of California, Los Angeles Center for Art Performance. Previous to receiving her FCPA grant, Carlson was the recipient of a three-year choreographic fellowship from the National Endowment for the Arts (1989-91) and received the first California Institute of the Arts Herb Alpert Award in Choreography (1995).
Carlson earned a B.F.A. in Modern Dance from the University of Utah in 1976 and an M.F.A. in Dance from the University of Arizona in 1983.