Anna Martine Whitehead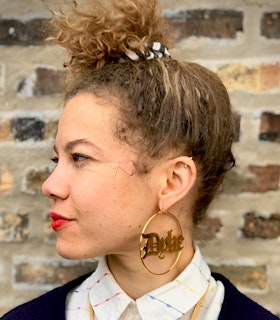 The FCA Award allowed me to not only imagine but also model another way of making and being in the world.
- Anna Martine Whitehead, December 22, 2021
Artist Statement
My work is a transgression on the field of dance, in the sense that my practice is an extension of my dance education at high school parties and queer clubs, two spaces notoriously pregnant with questionable "dancing." Sometimes I didn't even go to the parties—I just wrote poems about them, and that, too, is a way of knowing freedom. I am especially interested in thinking about freedom alongside those who find themselves inhabiting marginalized bodies. How we become free together.
I mine oral, recorded, and fictive histories for lessons in resisting spatial containment (in the case of Harriet Jacobs) or legibility (in the case of John Keene's Carmel). I use dance—like I use naps, meals, sound baths, sex, and any other sensual experience—as a tool for exploring Black queer ontology. The question is not how to master this freak technique. The question is: How do we move collectively in relation and opposition to mastery?
- December 2020
Biography
Anna Martine Whitehead works in performance. Their work considers embodied epistemologies of Black queer time and their expressions in liminal sites like prisons.
Whitehead's Notes on Territory (2019) combines dance, lecture, and a reading room. The work examines containment in architecture throughout history—prisons, forts, public housing, and cathedrals—particularly as it pertains to Black subjectivity and Black women's bodies, and how they exist as spaces of struggle and desire. Their process melds strategies for bringing physical and archival research together, creating live moments of mistranslation and transposition that highlight how the incongruities in colonial and imperial histories have shaped the world in which we live.
They have written about Blackness, queerness, and bodies in action for Art21 Magazine, C Magazine, frieze, and Art Practical. They have also contributed chapters to a range of publications including Queer Dance: Meanings and Makings (Oxford University Press, 2017), Organize Your Own: The Politics and Poetics of Self-Determination Movements (Soberscove Press, 2016), Platforms: Ten Years of Chances Dances (2016), and Girl Zines: Making Media, Doing Feminism (New York University Press, 2009). Whitehead is the author of TREASURE | My Black Rupture (Thread Makes Blanket, 2016).
Whitehead's performances include: Notes on Territory at Green Line Performing Arts Center, Chicago, IL (2019); FORCE! at Graham Foundation for Advanced Studies in the Fine Arts, Chicago, IL (2019); Amnesty 2.0 at the Art Institute of Chicago, Chicago, IL (2019); Future Supper at the Museum of Contemporary Art, Chicago, IL (2019), San José Museum of Art, San José, CA (2018), and Jessica Silverman Gallery, San Francisco, CA (2018); and Far Away at The Renaissance Society, Chicago, IL (2018).
Whitehead is the recipient of grants from The MAP Fund (2020), the Graham Foundation (2019), 3Arts (2018), and Chicago Dancemakers Forum (2018). Earlier in their career, they received a Foundation for Contemporary Arts Emergency Grant (2016) and a Chances Dances Critical Fierceness Grant (2014). They have received residencies from The Robert Rauschenberg Foundation (2020), Portland Institute of Contemporary Art (2019) The University of Chicago (2019), Headlands Center for the Arts (2018), and Djerassi Resident Artists Program (2013).
They have developed their craft by working closely with and contributing significantly to projects by Onye Ozuzu, Jefferson Pinder, taisha paggett, Cauleen Smith, Every house has a door, Keith Hennessy, BodyCartography Project, Julien Prévieux, and Jesse Hewit, and maintain an ongoing collaborative practice with Damon Locks.
Whitehead received a B.A. in Fine Art with a Certificate in Black Women's Studies from the University of Maryland, College Park and an M.F.A. in Social Practice from the California College of the Arts. They are an Assistant Professor at School of the Art Institute of Chicago and a performance activist with Prison + Neighborhood Art/Education Project, where they collaborate with movement workers inside and outside Stateville Correctional Center.