Anna Sew Hoy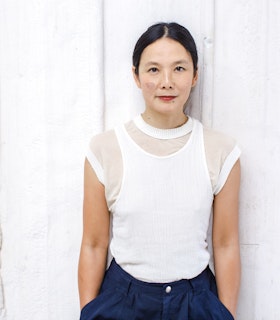 Artist Statement
I work from the perspective of the trash-picker, driftwood collector, and resuscitator of abandoned things. I lavish attention on our abundant cast-off junk in order to play with distinctions between craft, fine art, and bad taste. My work utilizes sculpture, installation, and performance to reconnect with the environment, to give form to mental space, and to demonstrate the power of the fleeting and handmade. I use many media, including steel, denim, cell phone cables and other communication detritus, sand, bronze, and rocks. I've focused on ceramics since 2003, when it was not commonly considered a medium for advancing ideas in contemporary art. I prioritize diversity and inclusion in my practice, in part by ensuring that my work is accessible in contexts outside of art institutions. In 2020 alone, I created four outdoor public projects. This is exciting because my work is now experienced by a widening community. I use abstraction to reorder reality because it's not literal or representational, so you can sidestep a lot of assumed positions. Abstraction is a site for materials to speak, and it provides a framework to engage energetic forces.
- December 2022
Biography
Anna Sew Hoy works at the intersection of ceramics, sculpture, installation, public art, and performance. She uses her work to rethink the relationship between art and craft, particularly as these fields of practice have been hierarchized through association with gender and class. She has developed a deeply tactile formal and material vocabulary, activating a strong sense of how objects embody and resonate with corporeal experience.
Sew Hoy's solo exhibition New Work at the San Francisco Museum of Modern Art, San Francisco, CA (2023), features work that resembles the ruins of a lost city, or places of refuge assembled from the shiny, tech-laden remains of a land destroyed. These sculptural installations are constructed from tangles of hand-built clay arches, found metal cages, and detritus ranging from charging cords to denim scraps. The structures embody Sew Hoy's interest in turning things inside out to explore the relationship between the exterior world (of bodies, buildings, and objects) and interior space (of psyches, emotions, and souls).
Her solo exhibitions include The Wettest Letter, Various Small Fires, Los Angeles, CA (2019); Anna Sew Hoy: Psychic Grotto Storefront, The Museum of Contemporary Art, Los Angeles, Los Angeles, CA (2017); Magnetic Between, Aspen Art Museum, Aspen, CO (2015); and Nothing All Day, San José Museum of Art, San José, CA (2011), among others. Sew Hoy's work is in the collections of the Hammer Museum, Los Angeles, CA; the San Francisco Museum of Modern Art, San Francisco, CA; the Los Angeles County Museum of Art, Los Angeles, CA; and the Museum of Contemporary Art San Diego, La Jolla, CA.
Sew Hoy has received a Guggenheim Fellowship for Visual Art (2022) and an Anonymous Was A Woman Award (2021). In 2015, she was awarded a Creative Capital Grant for Visual Art to support Psychic Body Grotto, her public sculpture at Los Angeles State Historic Park. She has also received the California Community Foundation Grant for Emerging Artists (2013) and the United States Artists Broad Fellowship (2006). 
Sew Hoy is Associate Professor and Area Head of Ceramics at the University of California, Los Angeles. She holds a B.F.A. from the School of Visual Arts and an M.F.A. from the Milton Avery Graduate School of the Arts at Bard College.