Anne Waldman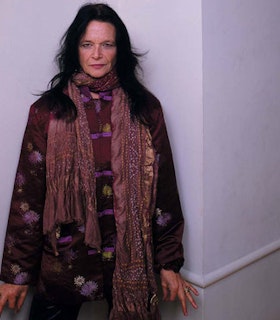 Over the year I was able to breathe a bit easier, feel less constrained by the demands of teaching, and travel (for work) which consumes a great deal of my energy.
- Anne Waldman, May 30, 2003
Artist Statement
I am concerned with articulating the imagination and experience of the world as poet, performer, cultural activist through language, investigative poetics, documentation, vocalization, text. "It sounds it" or the sense of "ti bot" (from Indonesian aesthetics), to sound the gong, sets the tone. But there is active and crafted attention to the page—as seed syllable, rune, projective imagination, amalgam of attention. Way beyond speech/content. An Indra's net of prosodies. The work is often activated thru being sounded. It fiercely and frequently vocalizes itself against injustice, subjugation of women, degradation of the planet. Texts, which in some cases could be read as "modal structures," are numerous and ongoing.
I am continuing the huge tapestry of the Iovis: All Is Full of Jove epic project, a rhizomic poem over 700 pages that takes on the overall question of "patriarchy" as theme. I am now working on Book III. Embed research, dream, dialogue, musical and visual strategies, other languages and lore.
Travel to the Buddhist stupa Borobudur in Java has set in motion a book-length piece entitled Structure of the World Compared to a Bubble. It resonates with various architectural concerns of the stupa as well as the mind architecture of Buddhist philosophy. The stupa with its many reliefs is a "book of enlightenment."
- 2002
Biography
Anne Waldman has been an active member of the "Outrider" experimental poetry community, a culture she has helped create and nurture for over four decades as writer, editor, teacher, performer, magpie scholar, infrastructure curator, and cultural-political activist. Her poetry is recognized in the lineage of Walt Whitman and Allen Ginsberg, and in the Beat, New York School, and Black Mountain trajectories of the New American Poetry.
She is the author of more than 40 books, including Helping the Dreamer (1989), Kill or Cure (1994), Fast Speaking Woman (1996), and a collection of essays entitled Vow to Poetry (2001). Waldman's 2001 Grants to Artists award supported her book of poetry In the Room of Never Grieve (2003). Her FCPA grant also funded the recording of a selection of poems included in In the Room of Never Grieve. Since receiving her 2000 Grants to Artists award, she has concentrated on the long poem as a cultural intervention with such projects as Marriage: A Sentence (2000), Structure of The World Compared to a Bubble (2004), and Manatee/ Humanity (2009), which is a book-length rhizomic meditation on evolution and endangered species, and the anti-war feminist epic The Iovis Trilogy: Colors in the Mechanism of Concealment (2011), a 25-year project. She has presented her work at conferences and festivals internationally and her works are translated into numerous languages.
Waldman was one of the founders and directors of The Poetry Project at St. Marks's Church in-the-Bowery where she worked for twelve years. In 1974, with Allen Ginsberg, she co-founded the Jack Kerouac School of Disembodied Poetics at Naropa University, the first Buddhist-inspired University in the western hemisphere. She is a Distinguished Professor of Poetics at Naropa and continues to work to preserve the school's substantial literary and oral archive. She has edited and co-edited many collections based on the holdings of the Kerouac School, including Civil Disobediences (2004) and Beats at Naropa (2009). She is also the editor of Nice to See You (1991), an homage to poet Ted Berrigan, The Beat Book (1996), and co-editor of The Angel Hair Anthology (2001).
Since her 2001 FCPA grant, Waldman has held fellowships and residencies at the Vermont Studio School (2001), Civitella Ranieri Center (2001), and The Emily Harvey Foundation in Venice (2007); she has been honored with a PEN Center Literary Award in Poetry (2012) and a John Simon Guggenheim Memorial Foundation Fellowship (2013); and in 2011 she was appointed a Chancellor of The Academy of American Poets (2011). Prior to her 2001 Grants to Artists award, Waldman had received the Dylan Thomas Memorial Award (1967), Poets Foundation Award (1969), National Literary Anthology Award (1970), National Endowment for the Arts Grants (1979-1980), and Poetry Society of America's Shelley Memorial Award (1996).