Annie-B Parson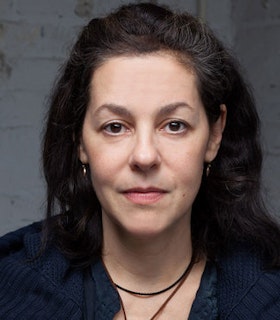 The grant was used to help support... Alan Smithee Directed This Play (2014). Simply put, the award paid me for my work with Big Dance Theater this year. I took no money from the company, which made it possible to give the dancers all a raise (!), and relieved other financial stresses in creating work on such a large scale... It is a cliché to state that I couldn't have made this work without the grant from FCA. But in this case, it is true.
- Annie-B Parson, January 2015
Artist Statement
My work is defined by its use of dance and dance structures in a theatrical context: theater set against dance itself, as two concurrent subject matters. I willfully ignore what is most readily associated with each discipline. I am interested in making work that is kinetic and imagistic, corporeal and intellectual, with many simultaneous subject matters and secret rubrics running underneath it. I believe in both the supportive and poetic power of structure—forms that are unique to choreography, forms that can hold, for example, both a narrative and an unrelated, ongoing movement piece at once, allowing these seemingly disparate elements to collide and resonate with each other. My work is defined by its many discreet systems, enacted simultaneously—allowing one world of movement, scenario, history, and design to act upon another, operating under the premise that life is less orderly and more ambiguous than any one source, and allowing colliding worlds and histories to shed light on each other. There is no methodology at play here to formalize in this hybrid sensibility. Rehearsal is finding a staging language that has never existed before and will not exist again—a contract with the audience that will evaporate after the show.
- December 2013
Biography
Annie-B Parson, co-founder of Big Dance Theater, has choreographed and co-created over twenty works for the company, ranging from pure dance pieces, to adaptations of plays and literature, to original works combining disparate materials.
In 2014, Parson's company premiered a new work at the Brooklyn Academy of Music, after performances in Lyon, France, and the Hebbel Theatre, Berlin. Her FCA-supported work Alan Smithee Directed This Play: Triple Feature (2014) sampled fragments of iconic film scripts and novels divorced from their narrative contexts to create a kinetic collage of political rhetoric, pathos, paranoia, and suburbia: revolutionary Moscow, collided with late twentieth-century Houston.
Parson's work with Big Dance Theater has been commissioned by international and national venues including the Brooklyn Academy of Music, the Théâtre National de Chaillot, Paris; the Japan Society; and the Walker Art Center, Minneapolis. Outside of Big Dance, Parson has created choreography for David Byrne's HERE LIES LOVE (2010) at the Public Theater, Byrne's 2012 world tour with St. Vincent, and his 2008-2009 Brian Eno world tour. Parson has also created dance for St. Vincent's 2014 world tour. Parson directed and choreographed for the string quartet ETHEL at the Winter Garden, and created two works for the OtherShore Dance Company, which premiered at Ringling Festival and the Baryshnikov Arts Center. Parsons choreographed for Nico Muhly's opera Dark Sisters (2011), Lucas Hnath's …Walt Disney (2013) at Soho Rep, Sarah Ruhl's Orlando (2003) at the American Repertory Theater, and The Broken Heart (2012) at the Theatre For a New Audience. Parson's solo Short Ride Out was performed by Wendy Whelan at the Royal Opera House in London in the summer of 2014. The Snow Falls in the Winter was performed by The Martha Graham Dance Company at the Joyce Theater in February 2015.
Subsequent to her FCA grant she received a 2014 Doris Duke Performing Artist Award. Prior to receiving her 2014 Grants to Artists award, Parson has received fellowships form the New York Foundation for the Arts, two New York Dance and Performance "Bessie" Awards (2002, 2010), a John Simon Guggenheim Memorial Fellowship in Choreography (2007), a USA Artists Grant in Theater (2012). Big Dance Theater received a 2000 OBIE Award and the first Jacob's Pillow Dance Award in 2007.
As an artist curator, Parson curated shows including the Merce Cunningham memorial, Dancer Crush at New York Live Arts, and Sourcing Stravinsky at Dance Theater Workshop. Since 1993, Parson has been an instructor of choreography at New York University's Experimental Theater Wing and continues to teach nationally and internationally. Parson earned her B.A. from Connecticut College and her M.A. from Columbia Teacher's College.