Annie Dorsen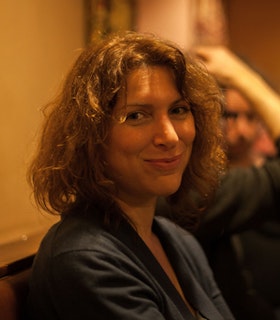 The award has helped me propel many new ideas and plans forward, and has had a major impact on my artistic career both now and for the future. I remain so grateful for this high honor... In August I premiered my latest theater work, The Great Outdoors...The funds from the award went toward artist fees for my team, production equipment, as well as travel, accommodations, and per diems during these final developmental residencies and through the premiere.
- Annie Dorsen, December 15, 2017
Artist Statement
I try to make perceptible how ideas change over time: where they come from, how they influence and are influenced by politics and culture, and how they take root in the body, physically and emotionally. While developing Hello Hi There in 2010, I began working with algorithms as full creative collaborators—what I call "algorithmic theater"—which continues to be the primary focus of my work. With these pieces I'm thinking about how we live increasingly wrapped up and entangled with objects that don't quite act like objects. The new technologies we have created don't stay in their place, but rather speak back to us, demanding our attention, drawing us into their logic. My projects are about experiencing not only how these tools work, but how we work with them.
- December 2016
Biography
Annie Dorsen is a writer and director working across the fields of theatre, film, dance, and algorithmic performance. Collaborating with algorithms as full creative partners, Dorsen allows her algorithms enormous freedom to operate unsupervised, letting them perform instead of human actors. Her algorithmic theater is always time-based, live, and intended to be viewed as a linear experience by an audience who views the work in its entirety, from beginning to end.
Dorsen's first algorithmic theater piece, Hello Hi There (2010), premiered at Streirischer Herbst, and has been presented at over twenty theaters and festivals in the United States and Europe, and, in installation form, at Bitforms Gallery. Her algorithmic piece A Piece of Work (2013), premiered at On the Boards, and was also presented at Théâtre Paris-Villette and Brooklyn Academy of Music's Next Wave Festival. Another algorithmic music-theater piece, Yesterday Tomorrow (2015) premiered at the Holland Festival, and has also been shown at MaerzMusik, Festival d'Automne, Le Maillon, and Théâtre Garonne. Dorsen's 2017 Grants to Artists award supported the premiere of The Great Outdoors (2017) at the French Institute Alliance Française's Crossing the Line Festival. In The Great Outdoors, a performer read Internet comments that were fed through an algorithm, giving voice and presence to anonymous, isolated thoughts.
Dorsen's other works include the pop-political performance project Democracy in America (2008), which was presented at Performance Space 122; the short film, I Miss, which was originally the centerpiece of Democracy in America; and Spokaoke (2012), a participatory karaoke project that uses political and historical speeches in place of pop songs. Dorsen is the co-creator and director of the Broadway musical Passing Strange (2008), the production of which was documented for a film by director Spike Lee. Dorsen's collaborative works include work with choreographers Anne Juren and DD Dorvillier, and musicians Questlove of The Roots, Laura Karpman and Jessye Norman, and the string quartet ETHEL.
Dorsen is the recipient of an Obie Award (2008), a Herb Alpert Award in the Arts (2014), and grants from the MAP Fund and New York State Council on the Arts. She received her M.F.A. from the Yale School of Drama, and is a visiting professor in the Theatre and Performance Studies Department at University of Chicago.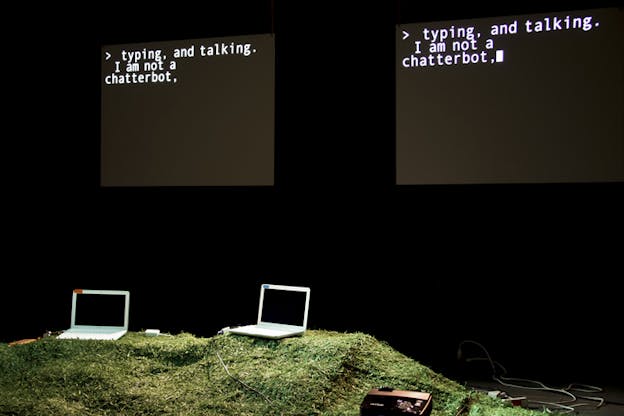 typing, and talking. I am not a chatterbot." typed in white." />