Annie Gosfield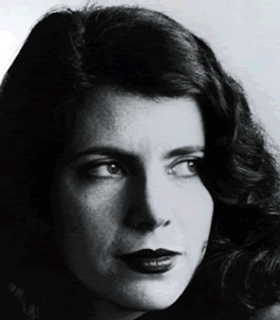 The greatest benefit of the [Grants to Artists] award was having the luxury to develop work slowly and to experiment. Instead of rushing through my work under pressure to produce, I chose to work slowly, thoughtfully, spontaneously, and sometimes recklessly, taking time to look for something new instead of using old patterns and processes.
- Annie Gosfield, March 5, 2008
Artist Statement
My compositions often explore the inherent beauty of non-musical sounds, and are inspired by diverse sources such as machines, destroyed pianos, warped 78 RPM records, and detuned radios. Lost Signals and Drifting Satellites, composed for solo violin and satellite sounds, was inspired by Sputnik and the blips and bleeps that it broadcast as it tumbled across the night sky. EWA7 is a site-specific work developed during a six-week residency in the factories of Nuremberg, Germany. Composed for my ensemble, EWA7 incorporates sampled machine sounds, factory metals, improvisation, and industrial environments. Flying Sparks and Heavy Machinery, for string quartet and percussion quartet, is also based on my research in the factory, but notated and adapted for the concert hall.
My life as a composer is divided between composing more traditionally notated work for ensembles and soloists, and performing music that incorporates improvisation, noise, and open structures with my own group. Improvisation has taught me to consider all musical possibilities, and given me a much freer mindset in composing. New works are often inspired by performers: working closely with musicians has helped me keep composition a dynamic, collaborative process. In recent years, the balance of my work has shifted towards notated music. This mysterious language, these odd little dots on the page and what they become, keep me in their thrall, and help me negotiate the fine line between music and noise.
- December 2014
Biography
Annie Gosfield works on the boundaries between notated and improvised music, electronic and acoustic sounds, and refined timbres and noise. She composes for others and performs with her own band, in venues as varied as festivals, factories, clubs, art spaces, and concert halls. Her work includes compositions inspired by factory environments and her grandparents' immigrant experiences in New York City during the industrial revolution.
Gosfield's 2008 Grants to Artists Award supported her pieces Lightning Slingers and Dead Ringers (2008), Phantom Shakedown (2010), and Floating Messages and Fading Frequencies (2011). In 2012, Gosfield released the CD Almost Truths and Open Deceptions, which features a piece for piano and broken shortwave radio, a cello concerto, a five-minute blast by her band, and music inspired by baseball and warped 78 RPM records. Shattered Apparitions of the Western Wind (2013) for Kathleen Supové is inspired by Debussy and Hurricane Sandy. Gosfield is a periodic contributor to the New York Times' series "The Score." She is an active collaborator, performer, and improviser and has played with many artists and choreographers.
Prior to receiving her 2008 Grants to Artists award, Gosfield's music was performed at the Bang on a Can Marathon at Lincoln Center (1995), MATA (2000), OtherMinds (2000), Warsaw Autumn (2001), Yerba Buena Center for the Arts (2003), and Merkin Hall (2004, 2006, 2007). Her compositions had been commissioned by the Rockefeller Foundation (1995, 2005), the Siemens Kulturprogramm in Germany (1999), Jerome Foundation (2000, 2007-2008), NewMusic USA (2007), and the American Composers Forum (2007-2008). Since receiving the FCA grant, her music has been performed globally at The Stone (2010), The Kitchen (2011), MaerzMusik (2012), Miller Theatre (2013), and the Watermill Center (2014), among others. Her compositions have also since been commissioned by Argosy Foundation (2008), Danish Arts Council (2008-2009), Rockefeller MAP Fund (2011), Creative Capital (2011), Doris Duke Charitable Foundation (2011), the Rockefeller Foundation (2011), and the New York State Council on the Arts (2014).
Subsequent to her 2008 FCA grant, Gosfield received fellowships from Civitella Ranieri (2008) and the American Academy in Berlin (2012). She has received grants and awards from U.S. Artists International (2010, 2013), the MAP Fund (2011), and NewMusicUSA (2011). Prior to receiving her 2008 Grants to Artists award, Gosfield received fellowships from the Siemens Foundation (1999), New York Foundation for the Arts (2000, 2004), and the McKnight Foundation (2001); she was awarded grants from the National Endowment for the Arts (1999), the Argosy Foundation (1999), the Jerome Foundation (2000, 2007), the American Composers Forum (2007), the Mary Flagler Cary Charitable Trust (2007), and Meet the Composer (2007), among others.
Gosfield held the Darius Milhaud Chair of Composition at Mills College (2003, 2005). She has taught composition at California Institute of the Arts (1999) and Princeton University (2007).