Anselm Berrigan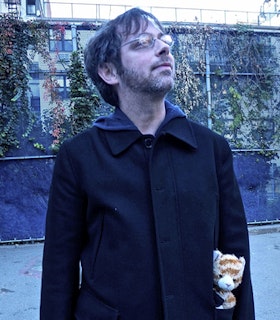 The grant was spirit lifting, alleviated some job-hunt anxiety, and helped realize a few different poetry-related endeavors that had been on hold at the mostly imaginary stage of in the works. I was also able to get some writing done at various points of the year, and complete two manuscripts of poetry, one of which will be published by Wave Books in 2019... I'm especially thankful for the support of poets who work unconventionally—it's a rare gift.
- Anselm Berrigan, December 15, 2017
Artist Statement
I started writing poems when I was eighteen and broke a line instead of making a sentence. I write by hand, I work a space out for a long time then go on, it all feels like one poem that has to get exhausted to change, it changes dramatically and often. The poems should be gotten and not gotten at the same time but time keeps moving so they're all sound disappearing with words extending their surfaces and blowing holes into them. The senses at work, the dispersal of power, the binding of humor and melancholy, putting things together that don't go together, rendering tone as shape, tampering with the endless external manipulations of perception, pretending prosody and the pictures plane are siblings, stealing compositional ideas from painters, and making everything in the poem be out of equilibrium except, spontaneously, all of it, are things my work seems interested in doing these days.
- December 2016
Biography
Anselm Berrigan is a poet working in long, serial, and stand-alone forms, shaped to make space for language to operate on as many of its known and unknown levels as possible. He is the author of eight books of poetry, two collaborative books, and several chapbooks.
Berrigan's 2017 Grants to Artists award supported the publication of Degrets (Couch Press, 2017), and the publication of poet Brendan Lorber's first full-length book, If this is paradise why are we still driving, by Berrigan's publishing collective Subpress. Berrigan's award also funded his travel to Kenya to participate in the Kistrech International Poetry Festival, hosted by Kisii University with readings across Western Kenya.

Berrigan's books of poetry include Integrity and Dramatic Life (Edge, 1999); Zero Star Hotel (Edge, 2002); Some Notes on My Programming (Edge, 2006); Free Cell (City Lights Books, 2009); a selection from an ongoing series, Notes from Irrelevance (Wave Books, 2011); Pregrets (Vagabond Press, 2014); the book-length scroll Primitive State (Edge, 2015); and Come In Alone (Wave Books, 2016), a book of poems composed out at the edge of the page. He is also co-author of two collaborative books, Skasers, with poet John Coletti (Flowers & Cream, 2012), and Loading, with visual artist Jonathan Allen (Brooklyn Arts Press, 2013).
Berrigan is the Poetry Editor for The Brooklyn Rail, an arts and culture monthly. He co-edited The Collected Poems of Ted Berrigan (U. California, 2005) and the Selected Poems of Ted Berrigan (U. California, 2011) with his mother Alice Notley and brother Edmund Berrigan. Berrigan is a member of the subpress publishing collective, and has published Selected Poems of Steve Carey (2009), Your Ancient See Through by Hoa Nguyen (2002), and Adam DeGraff's Wherewithal (2016). He also edited What Is Poetry? (Just kidding, I know you know): Interviews from the Poetry Project Newsletter 1983-2009 (Wave Books, 2017).
Berrigan was awarded a residency by the Robert Rauschenberg Foundation (2014) and a Process Space Residency by the Lower Manhattan Cultural Council (2015). He was a New York State Foundation for the Arts Fellow in Poetry (2007), and has received three grants from the Fund for Poetry. From 2003-2007 Berrigan was Artistic Director of The Poetry Project at St. Mark's Church, where he also hosted the Wednesday Night Reading Series. He is Co-Chair, Writing at the Milton Avery Graduate School of the Arts interdisciplinary M.F.A. program, and also teaches part-time at Brooklyn College.