Arnold Dreyblatt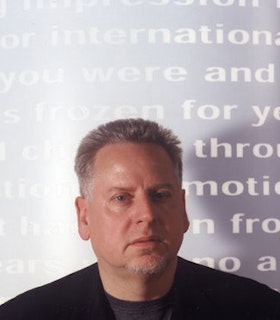 It was only through this financial support, independent of any particular project... that I was able to purchase the equipment and to take the extensive time... to learn and use the software and hardware, and begin to compose and work creatively with these new tools [digital composition system].
- Arnold Dreyblatt, February 6, 2000
Artist Statement
The basic concepts underlying my work have been realized in a variety of forms, such as music composition, contemporary opera and interactive performance installation, as well as publication in book-form, and as digital media. For many years, and until recently, I directed my own ensemble in New York and then later in Europe (The Orchestra of Excited Strings), for which I developed new acoustic instruments, performance techniques, and a system of tuning. In recent years I have been developing large-scale performances and installations throughout Europe concerning the theme of collective memory. At the same time my music has been "rediscovered" in the States by a younger generation of musicians, resulting in a new period of composing, performing, and recording.
- 1998
Biography
Arnold Dreyblatt is a media artist and composer. His early activities in music and performance included the albums Nodal Excitation (1998), Propellers In Love (1998), and the opera project Who's Who in Central and East Europe 1933 (1991). His artistic practice of the last twenty years has included large staged multi-day performances such as The Memory Projects (1995-2001); involved installations such as From the Archives (1999), The Wunderblock (2000), and Turntable History (2009); and wall works such as Ephemeris Epigraphica (2006) and Memory Lost (2007).
Dreyblatt invented a set of original instruments, performance techniques, and a system of tuning. Often characterized as one of the more rock-oriented of American minimalists, Dreyblatt has cultivated an underground base of fans for his transcendental and ecstatic music with his Orchestra of Excited Strings. The Bang On A Can All-Stars, Jim O'Rourke, Pellegrini String Quartet, and the Crash Ensemble have performed his music.
Dreyblatt's visual artworks create complex textual and spatial visualizations for memory. These projects, which reflect on such themes as recollection and the archive, include permanent installations, digital room projections, dynamic textual objects, and muti-layered lenticular text panels. He has exhibited and performed in galleries, museums, and public spaces such as the Hamburger Bahnhof Museum for Contemporary Art, Berlin; The Jewish Museum, New York; MAK – Austrian Museum of Applied Arts / Contemporary Art, Vienna, Austria; and Gallery e/static, Turin. Dreyblatt's permanent public artworks are on display at the HL Holocaust Center in Oslo and the Jewish Museum in Berlin. He was recognized with an award from the Förderpreis of the Academy of Art (Akademie der Künste) in Berlin.
With support from his FCPA grant, Dreyblatt composed several new music compositions including a composition for a large ensemble based on the structure of Morse Code. Additionally, Dreyblatt created live multi-track recordings of his ensemble, The Orchestra of Excited Strings. In 1999, Dreyblatt developed a text to sound system for an installation at the National Gallery/Hamburger Bahnhof Museum for Contemporary Art in Berlin.
One of the second generation of New York minimal composers, Dreyblatt studied music with Pauline Oliveros, La Monte Young, and Alvin Lucier, and media art with Woody and Steina Vasulka. In 2007 Dreyblatt was elected to lifetime membership in the visual arts section at the German Academy of Art (Akademie der Künste, Berlin). He is a Professor of Media Art at the Muthesius Academy of Art and Design in Kiel, Germany.