Arturo Herrera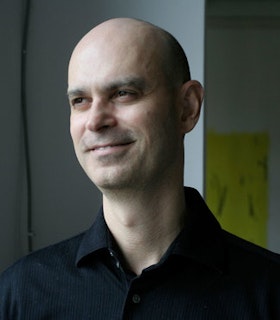 The grant allowed me to expand the possibilities of collage by synchronizing music to animated images, incorporating digital animation and sound in my practice. The creation of this new body of work allowed me to explore the efficacy of fragmented images and forms superimposed to music. The far-reaching impact of this grant on my creative output and professional growth will be incalculable.
- Arturo Herrera, May 27, 2006
Artist Statement
I believe the tension within constructed images reflects an essential tension inherent in life, where reconciling the familiar and the unknown is a continual, though generally unconscious, process. For this reason animated films and illustrations have been a rich source for my work. Their stylized, graphic qualities communicate the familiar in an effortless and immediate way that can also be pushed quickly into abstraction through fragmentation and dislocation. Likewise, my temporary painting and sculptural interventions in preexisting architecture have utilized the tension between scale and the painted image to physically address the viewer in public spaces.
- 2006
Biography
Arturo Herrera creates collages, photographs, works on paper, sculptures, and wall paintings that mix figuration and abstraction. He attempts to tap into the viewer's unconscious by incorporating popular cultural imagery in his works.
Prior to his 2004 Grants to Artists award, Herrera had exhibited work at the Whitney Museum of American Art, MoMA PS1, The Art Institute of Chicago, Dia Center for the Arts, and the Hammer Museum at University of California, Los Angeles. Funds from Herrera's 2004 FCA grant supported his project Les Noces (The Wedding), which was presented at Americas Society in 2011. Les Noces is a two-channel digital projection and was Herrera's first work to incorporate music and moving images.
Since receiving his 2004 FCA grant, Herrera has had solo exhibitions internationally at Haus am Waldsee, Berlin; Ikon Gallery, Birmingham, United Kingdom; Centro Galego de Arte Contemporánea, Santiago de Compostela, Spain; and Kettle's Yard, Cambridge, United Kingdom; among others. His work has also been included in group exhibitions at The Museum of Modern Art, El Museo del Barrio, The Walker Art Center, Contemporary Arts Museum Houston, and Museum of Fine Arts, Houston. Herrera's work is now in public collections including the Whitney Museum of American Art, Metropolitan Museum of Art, Tate Modern, Dallas Art Museum, and Museum of Contemporary Art, Los Angeles.
After receiving his 2004 FCA grant, Herrera was awarded a John Simon Guggenheim Memorial Foundation Fellowship (2005). Prior to his 2004 Grants to Artists award, Herrera had held an ArtPace Fellowship (1998), a YADDO Fellowship (2002), and a DAAD Berlin Fellowship (2003). He had also received grants from Art Matters (1995), the Louis Comfort Tiffany Foundation (1997), the Pollock-Krasner Foundation (1998), and Elizabeth Foundation for the Arts (1999).
Herrera completed his undergraduate studies at the University of Tulsa, Oklahoma in 1982 and earned his M.F.A. from the University of Illinois at Chicago in 1992.