Ash Fure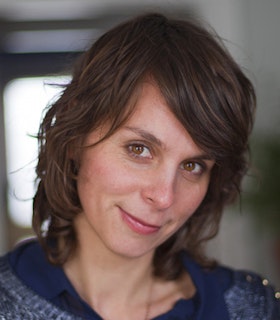 Barring the hot pink violin I purchased with Visa reward points in 2007, geographic and financial constraints until now have required that I rent or borrow instruments necessary for a given project. With my [FCA Grant], I was able to purchase my own arsenal of instruments, building a home studio ripe for tactile acoustic research. I purchased a 4-channel studio monitor system, a violin, a viola, a cello, a lap steel guitar with amplifier, a set of percussion bows and multiple frame drums.
- Ash Fure, December 15, 2016
Artist Statement
Sound starts from touch: air bumps air, hair rubs wire, fingers press and pull and pluck. The work I make is meant to heighten this haptic source of sound. Both the visceral sensation of hearing and the manner in which movement imprints onto acoustic phenomena concern me. I compose with complex timbres drawn from extended instrumental techniques and found objects such as scraped metal and bowed cardboard. These noises front an acoustic wildness intentionally abated in conventional musical practice. And yet, the precision of classical instruments opens avenues of transformation closed to noise in its raw state. Virtuosity and crudeness face off in my work, circling an aesthetic region between embellishment and fact, between sound as a carrier of aesthetic intent and sound as a subsidiary effect of action. My focus shifts regularly from concert music to immersive installations and from acoustic to electroacoustic media. Across these contexts, I seek to stage vivid aesthetic encounters that, as Francis Bacon once hoped for his paint, bypass the brain and go directly to the nervous system.
- December 2015
Biography
Ash Fure is an American composer of acoustic and electroacoustic concert music, and also creates multimedia installation art. Her work explores the kinetic source of sound, bringing focus to the muscular act of music-making and the chaotic behaviors of raw acoustic matter.
Fure's 2016 Grants to Artists award supported the realization of The Force of Things: An Opera for Objects (2016), an immersive intermedia opera created with architect Adam Fure, which premiered at the 2016 Darmstadt Summer Courses for New Music, Darmstadt, Germany. Other notable projects include Ply, a 55-minute electroacoustic ballet commissioned by the Institute for Research and Coordination in Acoustics/Music (IRCAM), for the 2014 Manifeste Festival, Paris, France (2014); Albatross, for large ensemble and electronics, commissioned by the San Francisco Contemporary Music Players for the 2014 Sweet Thunder Festival, San Fransisco (2014); Something to Hunt, a septet commissioned for the 2014 Darmstadt Internationalen Ferienkursen für Neue Musik, Darmstadt, Germany (2014); Feed Forward, a sinfonietta commissioned by Klangforum Wien for the 2015 Impuls Festival, Graz, Austria (2015); Risen, a new work for orchestra and electronics commissioned by the New York Philharmonic Biennial, New York (2016); and Etudes from the Anthropocene, a septet that premiered at a Miller Theater Composer's Portrait devoted to Fure's work in New York (2016). Fure's kinetic installation Tripwire (2012), created with visual artist Jean-Michel Albert, premiered at the 2012 Agora Festival in Paris, France and has since toured to Palais des Beaux Arts (BOZAR), Brussels, Belgium; International Digital Arts Biennial (BIAN), Montreal, Canada; and in France to Seconde Nature, Aix-en-Provence; Stereolux, Nantes; Festival Ososphère, Strasbourg; and Panorama, Tourcoing.
Fure has received the Julius F. Ježek Prize in Composition (2011) and a Staubach Honorarium for Composition (2012) from The Harry and Alice Eiler Foundation. She held a ten-month residency at Akademie Schloss Solitude (2012) and was awarded a Fulbright U.S. Student Program scholarship to France in Music Composition (2013-2014). In 2014 she received the Kranichsteiner Musikpreis from Internationales Musinkinstitut Darmstadt and the Busoni Competition Prize from Akademie der Künste, Berlin.
Fure received a Diploma in Music Composition from the Interlochen Arts Academy. She earned a B.M. from Oberlin College Conservatory of Music in 2004 and a Ph.D. in Music Composition from Harvard University in 2013. Fure holds further degrees from IRCAM, where she completed Cursus 1 in 2009 and Cursus 2 in 2011. Fure was a Mellon Post-doctoral Fellow at Columbia University in 2014 and joined the Dartmouth College Department of Music as an Assistant Professor of Sonic Arts in September 2015.