Autumn Knight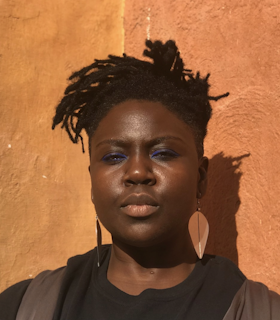 Artist Statement
In my interdisciplinary work, I create performances, installations, and video works that fuse race, gender, and history with psychoanalysis and public space. To this end, I critique and deconstruct boundaries of the institutions that are constructed to be socially supportive. In my live work, I often examine how audiences interact with Black authority figures, make real conceptual material, and benefit from a conceptual/social experiment. My practice embodies a range of concepts around physical intimacy, global architectural commonalities, and present/future reclamations of power. With each work, I aim to put forth inquiries concerning the boundaries of social contracts.
- December 2021
Biography
Autumn Knight is an interdisciplinary artist who works with performance, installation, video, and text. Drawing from her training in theater and group psychology, Knight makes performances that reshape power dynamics and upend audience expectations of live experiences.
Her performance M _ _ _ ER—which premiered at DiverseWorks, Houston, TX in 2018—is a far-reaching meditation upon relationships with things, people, and oneself. Playing upon the absent letters in its title, the performance touches upon familial intimacy, violence, and being through the terms "mother," "murder," and "matter."
Her work has also been shown by Abrons Arts Center, New York, NY (2021); Western Front, Vancouver, Canada (2021); The Kitchen, New York, NY (2020); On the Boards, Seattle, WA (2020, 2019); the Whitney Biennial, New York, NY (2019); Human Resources, Los Angeles, CA (2019); and The Studio Museum in Harlem, New York, NY (2017), which acquired her video and performance art for its permanent collection.
Knight has been recognized with an Anonymous Was A Woman Award (2021); the American Academy in Rome, Nancy B. Negley Rome Prize Fellowship in Visual Arts (2021); a Rema Hort Mann Foundation, Emerging Artist Grant (2019); an Art Matters Foundation Award (2018); and the Houston Artadia Award (2015).
Knight attended the Skowhegan School of Painting and Sculpture (2016). She holds a B.A. in Theater Arts from Dillard University and an M.A. in Drama Therapy from New York University.