Azikiwe Mohammed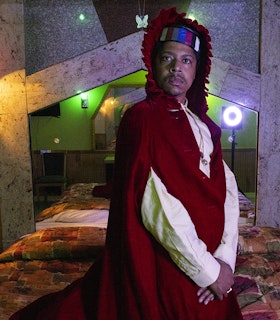 Artist Statement
I try to make work that deals with histories, objects, how those objects hold memories, and while doing so, make physical space for us to consider such. To feel such and be seen in the in-between spaces that exist for Blackness as it lives in our bodies, our stories, and our homes. I want to understand how to move forward through the world and make more objects that say yes to us as we hear no too often. Thru video, performance, sculpture, painted objects, and sound, I try to yes and where we have been and what if where we are going.
- December 2022
Biography
Azikiwe Mohammed is a crafter who builds physical spaces that include Blackness and the stories of the people of this land. Sometimes that land is physical, and other times it lives in our bodies. These attempts at land shapings come through sculpture, sound, photography, performance, video, and painted objects.
Shared Words, Split Catfish and Sweet Tea: An Open Platform for Discussion, Mohammed's site-specific installation at Transformer, Washington, D.C. (2022), featured the Auntie / Uncle Julius family—wooden sculptural figures that are a reoccurring cast throughout his works—sharing a meal around a dinner table. Mohammed invited friends, family, and other interested parties to share audio recordings with stories about their days, dreams, and what they see taking place around them; local community members were also invited to contribute their own audio, which was later made available to stream via local FM radio. Exhibition programming included raffles hosted by Mohammed's traveling food bank, The New Davonhaime Food Bank, named for a combination of five American cities with the highest Black-population densities: Birmingham, AL; Savannah, GA; New Orleans, LA; Detroit, MI; and Jackson, MS.
Mohammed's solo exhibitions include 11439-39202, Yeh Art Gallery, St. John's University, Jamaica, NY (2021); Blackest Night: A Survey in Blackness, SCAD Museum of Art, Savannah, GA (2019); and Jimmy's Thrift of New Davonhaime, Knockdown Center, Maspeth, NY (2017), among others. His work has been in two-person and group exhibitions at the California African American Museum, Los Angeles, CA (2022); Frac Normandie Caen, Caen, France (2022); Telfair Museums, Savannah, GA (2022); Crystal Bridges Museum of American Art, Bentonville, AR (2021); Fairmount Water Works, Philadelphia, PA (2021); John Michael Kohler Arts Center, Sheboygan, WI (2019); The Luminary, St. Louis, MO (2019); James Madison University, Harrisonburg, VA (2018); and The Studio Museum in Harlem, New York, NY (2017).
Mohammed is the recipient of a Rauschenberg Artists Fund grant (2021), a Rema Hort Mann Foundation Emerging Artist Grant (2016), and an Art Matters Foundation Award (2015). In 2022, he was featured on Art21's New York Close Up digital-film series on artists living and working in New York City.
Mohammed has a B.F.A. from Bard College.