Barbara Bloom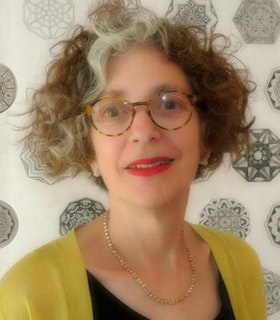 During the last year, I produced and exhibited a work titled The Weather... In this work, hovering in varying heights above the floor are carpets, each a subtle shade of gray-green-blue. The carpets have raised-dot patterns forming texts in Braille... The production of the carpets was a complex one, and it was not easy to find a manufacturer able to accurately produce the intricate patterns of raised dots. Working with Classic Rug Collections in New York, a factory in Thailand was found that could produce the work perfectly.
- Barbara Bloom, December 8, 2016
Artist Statement
Though enthusiastically visual, I often feel that my work stems more from the traditions of literature than it does from the fields of painting or sculpture. I am probably a novelist, but somehow ended up standing in the wrong line, and inadvertently "signed up" to be a visual artist. I rarely concern myself with single objects or images. Rather, my fascination is with the relationships between objects or images—and the meanings implicit in their placement and combination.
Over the years, I've developed a working method of zeroing in on subjects of interest, and slowly researching several subjects at a time, savoring all kinds of detours until, at a certain moment a work comes into being.
Each of my works is an elaborately and intricately devised place. Themes overlap and echo from one exhibition to the next. The bridge between them is a series of books I have produced. These eclectic combinations of scholarship and pure hunch give the reader a way of entering my thinking and compose an overall conceptual framework.
- December 2015
Biography
Barbara Bloom is a visual artist whose conceptual practice is often centered on photography and installation. Bloom lived in Europe for nearly twenty years—first in Holland, then in Germany. Since 1992 she has lived and worked in New York.
For Bloom's 2013 solo exhibition at the Jewish Museum, As it were…So to speak, she created tableaux that proposed dialogues among imagined historical guests and drew upon Talmudic discourse. As the former home of the Warburg Mansion, Bloom engaged with the site as both a museum and home to these guests, through artworks, found texts, and her writings. In 2015 Bloom presented Framing Wall (1977-2015) at The Museum of Modern Art. This was a twelve-part installation of images that framed other photographic images.
Bloom's select solo exhibitions include The Gaze, at Stedelijk Museum, Amsterdam (1985); and at the Parrish Art Museum, Southampton (2000); The Reign of Narcissism, Serpentine Gallery, London, also exhibited at Kunsthalle Zürich, and Württembergischer Kunstverein, Stuttgart (1990); Never Odd or Even, at Carnegie Museum of Art, Pittsburgh (1992); Pictures from the Floating World, at Leo Castelli Gallery, New York (1995); and The Collections of Barbara Bloom, at the Wexner Center for the Arts, Columbus (1998); later shown at Martin-Gropius-Bau, Berlin and the International Center of Photography, New York (2008).
Her work has been included in group exhibitions at Westkunst, Museen der Stadt, Cologne (1981); the New Museum, New York (1988); Secession, Vienna (1982); Art Gallery of New South Wales, Sydney (1990); The Israel Museum, Jerusalem (1990); Fundacion Caja de Pensiones, Madrid (1992); MAK – Austrian Museum of Applied Arts / Contemporary Art, Vienna (1994); SITE Santa Fe (1995); Louisiana Museum of Modern Art, Denmark (1996); Museum of Contemporary Art, Los Angeles (1996); Art Institute of Chicago (1998); Museum Fridericianum, Kassel (1999); Cooper-Hewitt Design Museum, New York (2004); Kunsthaus Graz, Austria (2004); Shanghai Duolon Museum of Modern Art, China (2005); the Carpenter Center for the Visual Arts at Harvard University (2013); and Kunsthalle Wien, Austria (2015).
Bloom was a DAAD Berlin Artist-in-Residence in 1986; in 1988 she received the Venice Biennale, Duemila Prize for Best Young Artist and the John Simon Guggenheim Memorial Foundation Fellowship in Fine Arts; and in 2007 she was a Getty Research Institute Visiting Scholar.
Bloom attended Bennington College from 1968-1969 and earned her B.F.A. from California Institute of the Arts in 1972.