Beth Gill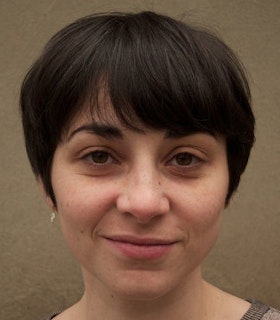 ... Each application of this grant expanded my awareness of how much support is needed to live as an artist. I am so grateful for this past year and the very real support that I received from the Foundation for Contemporary Arts, which I believe has encouraged me to claim my identity and life as an artist with more confidence and clarity.
- Beth Gill, December 7, 2012
Artist Statement
At the onset of every new work is a familiar battle to reconnect with why I keep making dances. I started dancing at three years old and never stopped, which feels both remarkable and unremarkable at times. The only way this continues to be a relevant language, medium, and identity for me is if I am questioning its necessity at every juncture.
As a choreographer, what I find along the way is that dance as a creative terrain is incredibly vast and challenging. It forces me to be extremely sensitive, intuitive, and patient with my collaborators and myself. Within my dances I have discovered that I deeply love investigations of form. Thinking about movement in this way is highly generative, and a true reflection of my interior experience of the world. The resulting dances are often highly controlled, minimal systems designed to simultaneously distill and free gestures within the work. Beyond the aesthetic design, these detailed constructions are foundations for more unruly, confusing, and personal content to subversively surface over time. Building this kind of beating heart within each structure is the challenge and obligation that grounds me as an artist.
- December 2011
Biography
Beth Gill is a choreographer who has been making contemporary dance and performance in New York City since 2005. Her body of work examines issues within the fields of contemporary dance and performance studies through a focused exploration of aesthetics and perception. Gill's works include Untitled (2006), Eleanor & Eleanor (2007), what it looks like, what if feels like (2008), and Electric Midwife (2011).
Gill has been commissioned by New York Live Arts, The Chocolate Factory, The Kitchen, and Dance Theater Workshop. Her performances have toured at national and international venues including Fusebox Festival, Texas; The Nazareth College Dance Festival, New York; and Dance Umbrella, United Kingdom.
Following her FCA support, Gill received a Doris Duke Performing Artist Award (2015), was a 2013-2015 New York City Center Choreography Fellow, and a 2015-2016 Lower Manhattan Cultural Council Extended Life artist-in-residence. In 2015, Gill received an FCA Emergency Grant to premiere Portrait Study at New York Live Arts in New York. Prior to her 2012 Grants to Artists award, Gill received a 2011 Time Out New York "Best Dance of 2011," a New York State Dance and Performance "Bessie" Special Juried Award (2011), and a New York State Dance And Performance "Bessie" Outstanding Emerging Choreographer Award (2011).
Gill received a B.F.A from New York University's Tisch School of The Arts (2003). She began her dance training with Rose Marie Menes and Tami Horowitz at the Westchester Ballet Center as well as the New York State Summer School of the Arts where she trained with Carolyn Adams and Julie Strandberg. Gill is a member of The Hatchery Project, a multi-residency program and has been a guest artist and instructor at Barnard College, Eugene Lang College the New School for Liberal Arts, and Arizona State University.