Beverly Glenn-Copeland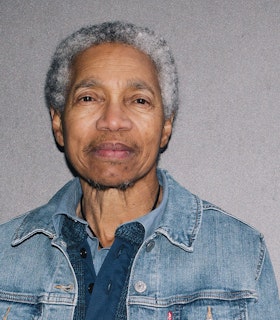 With the support of the Foundation for Contemporary Arts, I was able to establish a permanent home for myself and my wife, and spend some valuable time focusing on my health to recover from the stress and exhaustion of the previous twelve months. In October 2021, I was able to complete the recording of a new studio album with my five band members at Lakewind Sound Studios. This was a huge project for me and the band after having to delay this recording several times due to risks and restrictions posed by COVID-19. This is the first album that I have recorded in almost 20 years.
- Beverly Glenn-Copeland, January 10, 2022
Biography
Beverly Glenn-Copeland is a singer, composer, and transgender activist who works between the constraints of any one genre. His music is an idiosyncratic mix of ambient electronic, jazz, classical, and psychedelic folk; it is ancient, future-looking, and visceral.
Glenn-Copeland grew up in a house obsessed with classical music, listening to his father practice piano for five hours a night, with Bach, Chopin, and Mozart as his 'cradle music.' Although he is a U.S. citizen, he has lived in Canada since 1961 when he moved to Montreal to study German Lieder (song cycles) at McGill University. Faced with challenges and hostility due to his race, gender, and sexual orientation, he dropped out of university before completing his degree and began playing guitar and writing music. In the early 1990s Glenn-Copeland first heard the term 'transgender.' Equipped with the language to describe the way he had felt since a young age, he found a self-identity which had eluded him his whole life.
In 1970, Glenn-Copeland recorded two albums. His first one, Beverly Copeland, was part of the Canadian Broadcasting Corporation's 'Transcription Series' and was a virtuosic showcase of classical and jazz vocal stylings, poetry, jazz, and folk with only 250 copies pressed. Six months later, Glenn-Copeland made the studio album Beverly Glenn-Copeland—a folk-jazz classic with a mystical reputation and an underground following since its release.
He did not release a full album again until 1986 with Keyboard Fantasies, an album inspired by his relationship with nature and his obsession with science fiction. Self-released on cassette, it sold less than 100 copies at the time, but gained recognition in 2020 when it was awarded the Slaight Family Polaris Heritage Prize.
Other albums by Glenn-Copeland include: Transmissions: The Music of Beverly Glenn-Copeland (2020), a career-spanning retrospective album; Live at Le Guess Who? (2020); and At Last! (1983). Glenn-Copeland performed for the first time in the United States at MoMA PS1, Long Island City, NY in 2019, and he was featured on a documentary the same year titled Keyboard Fantasies: The Beverly Glenn-Copeland Story, which premiered at the Barbican Centre, London, United Kingdom.
Glenn-Copeland has appeared as a regular guest on the Canadian children's TV show Mr. Dressup and has written for Sesame Street.