Bill Morrison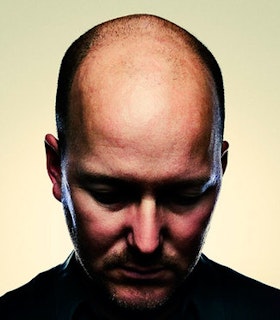 The FCPA grant came at a most opportune time for me…With the unexpected additional funding, I devoted myself to the undeterred production of [Gotham]...
- Bill Morrison, February 19, 2005
Artist Statement
The images can be thought of as desires or memories: actions that take place in the mind. The filmstock can be thought of as their body, that which enables these events to be seen. Like our own bodies, this celluloid is a fragile and ephemeral medium that can deteriorate in countless ways. The nitro-cellulose base gradually returns to the elements that comprise it: cotton, nitric acid, and camphor. The images deform and coalesce throughout the length of the film, appearing to melt, burn, drip or tear away from the base. This is a natural phenomenon. I chose only those images where this deterioration has happened over time, while stored in archives. Like the film, our bodies will eventually be reduced to what essentially forms us. What they contain is who we are: our thoughts, dreams, and memories. These will be reprised as something new, and hopefully, more lasting.
There are always levels of artifice that have to be dealt with when re-contextualizing an old film. A bad Hollywood movie from the 1930s is always going to read as kitsch when presented to a new audience, unless it is seriously undermined somehow. A newsreel will have its own set of politics attached to it. With the decayed footage, the deterioration seems to strip these films of some of their original intentions, rendering them all as images on celluloid, whether "real" or imagined.
People assume that I'm obsessed with decay as a concept. I think I'm more interested in finding beauty in the commonplace or what other people consider trash or garbage, to try to see the world in a new way. The idea that everything's going to turn to nothing isn't the point of Decasia, it's that you can re-form things, and it takes on a new life.
I think some people will bring from it, "Oh my God, look what's happening to our images." That's not my point. Floods come and go, images get lost, and a lot of things get lost. I'm more interested in what survives, and I think part of Decasia is what survives is the human spirit. The Great Flood, what survives is the human spirit. Spark of Being or The Miners' Hymns. These are about the perseverance of spirit and will as everything's falling apart around you. And I want that to be the legacy of these images.
- 2014
Biography
Bill Morrison is a filmmaker whose works feature edited archival material set to contemporary music. He employs found 35mm nitrate film that is chemically decomposing to create new narratives. Morrison is a founding member of the performing ensemble Ridge Theater.
Morrison's early films include Footprints (1992), The Death Train (1993), Nemo (1995), The Film of Her (1996), City Walk (1999), Ghost Trip (2000), and Trinity (2000). His experimental collage film Decasia (2002) was a collaboration with the composer Michael Gordon. With funds from his 2003 Grants to Artists Award, Morrison premiered Gotham (2004) at Zankel Hall. The film combines archival and original footage of New York City with a symphony by Michael Gordon. His subsequent works include Outerborough (2005), The Highwater Trilogy (2006), Porch (2006), Who By Water (2007), Fuel (2007), Dystopia (2008), Release (2010), and Spark of Being (2010). The Miner's Hymns (2011), with score by Jóhann Jóhannsson, toured with live musical performances in the United States, Netherlands, and United Kingdom. In 2014, Morrison's The Great Flood opened theatrically and was released on DVD by Icarus Films. In the same year Morrison premiered Beyond Zero 1914-1918, a collaboration with the composer Aleksandra Vrebalov and the Kronos Quartet at Edinburgh International Festival and at CPH:DOX, Copenhagen International Documentary Film Festival. Morrison also had a mid-career retrospective at The Museum of Modern Art in 2014.
Morrison has been commissioned to create films to accompany live musical performances by composers such as Bill Frissell, Steve Reich, Gavin Bryars, Richard Einhorn, John Adams, David Lang, Henryk Gorecki, Julia Wolfe, Harry Partch, and Todd Reynolds.
Since his 2003 Grants to Artists award, he has received a National Endowment for the Arts Creativity Grant (2004) and an Alpert Award for the Arts (2006). Morrison's films are now in the collection of The Museum of Modern Art, Walker Art Center, and the EYE Film Institute in Amsterdam. His film Decasia was selected to the United States Library of Congress' National Film Registry in 2013, becoming the most modern film to be named to that list. Prior to his 2003 FCPA grant, Morrison was a John Simon Guggenheim Foundation Fellow (2000). His theatrical projection design was recognized with two New York Dance and Performance "Bessie" Awards, one for Every Day Newt Burman (1993) and one for Jennie Richie (2002); and an Obie Award for Sustained Achievement (2002).
Morrison attended Reed College and received a B.F.A. from Cooper Union School of Art in 1989.