Black-Eyed Susan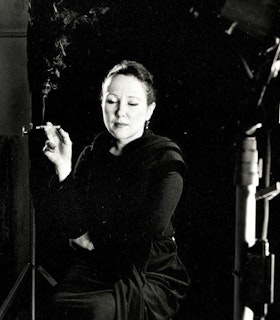 ...this year, 2014, I performed in an Obie- and Bessie-winning play... titled This is the End... I have used grant money to cover medical expenses... I am saving money for rehearsal time in 2015 for another theater piece... Thank you for your generous support to enable me to pursue my ongoing work in exciting, innovative theater.
- Black-Eyed Susan, December 11, 2014
Artist Statement
Charles Ludlam showed me how to work with what one has, to work on inadequacies and not to have an idea in mind that you can't be. He taught me—this is a Zen concept—that perfection lies in the mind, and that reality can have a perfection of its own. When creating the reality, I look at the dialogue and ask how this particular phrase, or sentence affects the person I'm acting with. That's motivating something. Also how the other actor's words affect you. When we were going to doMedeaat The Ridiculous, I already had a pretty good idea ofmyown motivation, because it was pretty basic to me. When we got there to read, I realized that everyone's readings, what they said to Medea, their responses, affected me differently than what I had imagined. Suddenly I had to taketheminto consideration. I wasn't an entity unto myself. That happens in every script.
- December 2013
Biography
Actress Black-Eyed Susan was a founding member of Charles Ludlam's Ridiculous Theatrical Company. With the company she created a wide range of characters—Tsu-Hsi, the last empress of China, in Eunuchs of the Forbidden City; Olympe deTaverny in Camille; Ramona Malone in Hot Ice; Ophelia in Stage Blood; Zuni Feinschmecker in Caprice; Phyllis in Utopia Incorporated; Princess Eulalie-Irene in The Enchanged Pig; Eleanor in Reverse Psychology; Sylvia Woodward in Love's Tangled Web; Barbara Bendix in Exquisite Torture; Hure von Hoyden in Galas; Roxanne Nurdiger in The Artificial Jungle; and both the nurse and the title role in Medea.
She has also collaborated with Jim Neu, Mabou Mines, Ethyl Eichelberger, Sheila Callaghan, and John Jesurun with recent appearances in Liz One (2009), and Stopped Bridge of Dreams (2012). From 2006 to 2009, she collaborated with Mallory Catlett on Red Fly/Blue Bottle, and more recently, on This is The End (2014). Her Film work includes Ironweed, Black Maria, and Stuart Sherman's A Portrait of an Actress.
Previous to her 2014 Grants to Artists award, Black-Eyed Susan received a Villager Awards for Outstanding Performance (1987) and an Obie Award for Sustained Excellence of Performance (1987).