BodyCartography Project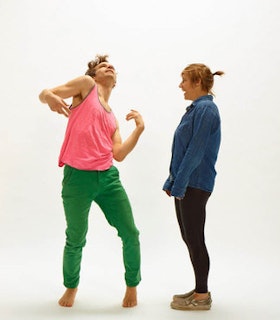 In 2016 we premiered our new work closer with over 241 free one-on-one performances in public spaces across the Twin Cities and the Red Eye Theater... We toured our Super Nature to DancePlace, Washington D.C. and Kelly Strayhorn, Pittsburgh. We began our Embodied Performance training, leading 3 x 2 week modules in Minneapolis and Berlin... The impact of this funding has been profound. It came at a time of financial drought of several years. It gave us validation that our work is resonating and meaningful and being recognized nationally... This unrestricted grant has given us the seed money to initiate projects we didn't have other resources for and which we hope will come to full fruition over the coming year. It has also allowed us to dream big pushing beyond the many limitations of our midcareer life in Minnesota.
- BodyCartography Project, January 8, 2015
Artist Statement
Our work investigates embodiment and empathy, and provokes aliveness as part of our everyday experience. We create dance in urban, domestic, wild, and social landscapes. Our work is rooted in contemporary dance, somatic technique, education, social practice, and public art. We are deeply invested in the power of live performance to facilitate a re-enchantment of embodiment, relationship, and presence.
Somatic practice informs the ground of our dance-making and teaching practice. Somatic practice is an integrated and embodied approach to movement, the body, and consciousness. Our current work looks at how the vehicles of embodiment and kinesthetic empathy facilitate a connection between the audience and performer, and how that space can function as a potential site for transformation.
- December 2014
Biography
BodyCartography Project is a performance collective based in Minneapolis founded by Olive Bieringa and Otto Ramstad. Their performances, installations, films, workshops, talks, and curatorial projects investigate embodiment and empathy, and are rooted in contemporary dance, education, social practice, public art, and somatic technique. Ramstad and Bieringa are certified teachers of Body-Mind Centering®, an integrated and embodied approach to movement, the body, and consciousness that informs their dance-making and teaching. BodyCartography Project's works range from intimate solos for the street and stage, to large community dance works in train stations, short experimental films in national parks, and complex works for site or stage.
Their work has been presented and commissioned by Performance Space 122, Movement Research at Judson Church, Dance Theater Workshop, American Realness festival, Dance on Camera Festival, the Walker Art Center, the Minneapolis International Film Festival, Minnesota Public Television, the Portland Institute of Contemporary Arts, Philadelphia Dance Project, Anti-Festival in Finland, Stromereien Festival in Zurich, Lyon Opera Ballet, the New Zealand International Film Festival, and Cinedans, Amsterdam. They have collaborated with composers, visual artists, scientists, and filmmakers including Zeena Parkins, Emmett Ramstad, Bryce Beverlin II, and Fritz Haeg.
BodyCartography Project's 2016 Grants to Artists Award supported the development of two new works, the installation performance felt room, and the solo-dance work Lineage. Previous to their FCA support, BodyCartography Project received grants from the Rockefeller MAP Fund (2007, 2010, 2012) and The McKnight Foundation Choreography Fellowship (2010), and completed a residency at Maggie Allesee National Center for Choreography (2010). BodyCartography also received support from the New England Foundation for the Arts, National Dance Project (2012); and the National Performance Network (2012). They are featured artists in the first book about site dance in the U.S. published by University of Florida Press entitled Site Dance, the Lure of Alternative Spaces (2011).
Bieringa received her B.A. at the European Dance Development Center in the Netherlands and an M.F.A. in New Media and Performance at Long Island University. Bieringa teaches dance, video, Body-Mind Centering®, and DanceAbility® in university and public contexts, and has served as a curator for art and science projects for Public Art St. Paul, and Earthdance in Massachusetts. Ramstad holds a B.A. in Dance, Improvisation, and the Moving Image from Goddard College. He has been featured in the work of DD Dorvillier, Miguel Gutierrez, Shelton Mann, Karen Nelson, Lisa Schmitt, Scott Wells, and Kitt Johnson. His solo work has been performed in Denmark, Finland, England, France, New Zealand, and across the U.S. Ramstad was Archibald Bush Fellowship Artist (2006), and received two DanceWeb Scholarships at ImPulsTanz International Dance Festival in Vienna (2005, 2008).