Bonnie Jones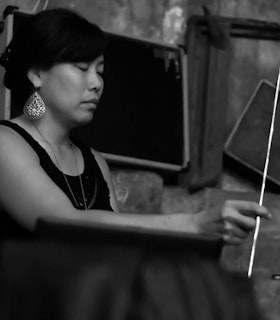 The radical change that this award afforded me this year was that I was able to focus on making incremental changes to my work and health life. I was able to slow my mind and my body down, to say no to things, to take my time tending my health, making music, making dinner, taking a walk. To be as fully present to the people in my life that I care about, to take stock of where I was personally, creatively, to make unrushed plans for where I wanted to go.
- Bonnie Jones, November 20, 2018
Artist Statement
I've always been interested in complex identities and experiences, fascinated by contradictions and what takes place in the in-between, in these moments where knowledge and possibility are transferrable from one object to another. What we cannot define, or struggle to define becomes the source of what is possible.
My creative work engages different mediums—performance, poetry, music, theater, and video. Partly from a restless and contrarian nature and partly from a desire to pressure test the ways different mediums can express that slippery intangible space of meaning making, I choose materials and forms that create tension and contradiction, harsh electronic noise with highly produced pop music, conversational language with poetry, shortwave radio transmissions with electronic pure sine tones, silver bowls, and trash. My performances and artworks often bring audiences into unfamiliar sonic territories and complicated spaces of negotiation.
Based on my committed practice of creative improvisation and collaboration, my compositional approach privileges fluidity, chance, and unconventional structures. The sounds and objects I use become embedded in my practice and I develop an intimacy with the materials by working with them repeatedly in different performances and projects.
I like to think that my work tells the stories that objects would tell if they could. The story of a silver bowl. The autobiography of a sound. The history of a word. I create environments and imaginary places using sound, text, and performance where everything is an autonomous actor—from the smallest sounds to the fleeting memory to the personal identity. At times, these stories are a layered cacophony of voices, other times an object aria, clear and direct.
- January 2018
Biography
Bonnie Jones is a Korean-American improvising musician, poet, and educator working primarily with electronic sound and text. Her work uses electronic noise (field recordings, circuit bending) and text (poetry, found, spoken, visual) to make visible/audible the often invisible, fluid, and in-between states of self and identity.
Jones has been an active improvising musician since 1999, and has released several recordings of collaborative and solo projects including green just as I could see (Erstwhile, 2012), with Andrea Neumann; AS:IS (Olof Bright, 2012), with Christine Abdelnour and Andrea Neumann; Clandestine Cassette Series #2 (Northern Spy, 2011); Arena Ladidros (Another Timbre, 2010), with Chris Cogburn and Bhob Rainey; NINA (Simple Geometry, 2010), with Chris Cogburn and Liz Tonne; Jones Family Farm (Compost and Height, 2008); Vines (emr, 2006); One Day (Erstwhile, 2008), with Toshimaru Nakamura; and English (Copula, 2004), with Joe Foster.
Jones has received commissions from the Institute of Contemporary Arts in London, United Kingdom, and the Walters Art Museum in Baltimore. She has presented her work and collaborations domestically at ISSUE Project Room, Brooklyn; Katzen Arts Center, Washington, D.C.; Kelly Writers House, Philadelphia; The Museum of Contemporary Art, Los Angeles, Los Angeles; MoMA PS1, Long Island City; Ontological‐Hysteric Theater, New York; REDCAT, Los Angeles; Swiss Institute, New York; Whitney Museum of American Art, New York; and internationally at Museo Universitario Arte Contemporáneo, Mexico City, Mexico; and Teatr Weimar, Malmö, Sweden, among others.
As a Baltimore-based arts organizer, Jones was a founding member of both the Transmodern Festival and CHELA Gallery, and is a member of the High Zero Festival and of the Red Room collective. In 2010, Jones and Suzanne Thorpe co-founded TECHNE, an organization whose primary program introduces female-identifying youth to technology-focused art making, improvisation, and community collaboration. TECHNE's programs are delivered through partnerships with grassroots organizations that share an aligned commitment to racial and gender equity.
Jones is the recipient of a Fulbright Award (2004), and has been an artist in residence at Kunsthall Krems, Krems an der Donau, Austria; Elektronmusikstudion EMS, Stockholm, Sweden; Mills College, Oakland; STEIM, Amsterdam, Netherlands; and Q-O2, Brussels, Belgium. She has presented lectures and workshops at Centro Cultural Universitario Tlatelolco; Dartington College; Dia:Beacon; Johns Hopkins University; Oberlin College; Maryland Institute College of Art; and University of California, Berkeley. She received her M.F.A. at Bard College.