Brad Kahlhamer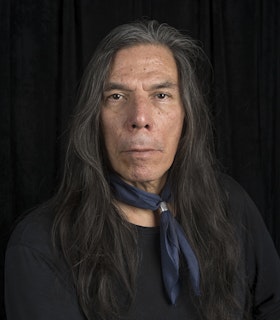 I would like to thank you again for this amazing award. It has truly been a bright and sustaining light through a dark chaotic year!
I have two major upcoming exhibitions in Arizona… Although both exhibits have different visions, they each require a serious amount of support that a swing state art institution in Arizona is pressed to provide even in the best of times. You should know the Foundation's support is going directly to hotly contested political and cultural front lines…
The FCA grant has made it possible to maintain my Brooklyn studio, allowing for select studio visits and fabrication during a distressing year. Maintaining a studio footprint is my main concern and your support allows me to continue in NYC.
- Brad Kahlhamer, December 13, 2020
Artist Statement
My body of work explores a meeting point of two opposing personal histories that I term 'the third place.' As a Native American adopted by German American parents, I am profiling myself, but interested in the history of those expressions. In my work, I am making landscapes that I can live in through an ongoing definition of contemporary life and art, not about America but from America.
I investigate painting as a tool that develops an awareness of visual images and hybrid visualizations through a combination of studio work and a nomadic studio practice. Working in multiples, several series of paintings have over time developed to be defining works, e.g. Billy Jack Jr. Each work is a discussion on appropriation, borrowed imagery, forms and styles from art history, and pop culture.
Nomadic Studio, my ongoing sketchbook practice, considers the constant yonderin' exploration of subject matters, personal travels, and technique. My work reveals chronicle, myth, and fantasy, revealing the historically complex role of the painter as a hybrid cultural sampler.
- December 2019
Biography
Brad Kahlhamer is an artist working in a range of media including sculpture, drawing, painting, performance, and music to explore what he refers to as the "third place"—a meeting point of two opposing personal histories. Reimagining a subjective vocabulary through a neo-expressionist lens, his work references hallmarks of twentieth-century abstract painting, such as German Expressionism, while incorporating a highly personal iconography.
Drawing on his tripartite identity, Kahlhamer's work navigates his Native American heritage, adoptive German-American family, and adult life in New York City's Lower East Side. His initial work as an illustrator at Topps Comics, early exposure to Native American ledger drawings (which he considers to be America's first graphic novels), and the artistic milieu of downtown Manhattan shape the language of his paintings and drawings. While referencing Native American history and culture, his work explores his own displaced identity and straddles notions of authenticity and representation within the discourse of Native American art.
Kahlhamer's work has been exhibited in the United States and internationally, including at the Minnesota Museum of American Art, St. Paul, Minnesota; the Plains Art Museum, Fargo, North Dakota; and at LOOM Indigenous Art Gallery, Gallup, New Mexico. Kahlhamer's solo exhibition Bowery Nation opened at the Aldrich Contemporary Art Museum, Connecticut in 2012, and was presented at the Nelson Atkins Museum of Art, Missouri in 2013. His work was included in PROSPECT.4: The Lotus in Spite of the Swamp, New Orleans, and has appeared in group exhibitions at the Montreal Museum of Fine Arts, the Museé du Quai Branly, Paris, and The Metropolitan Museum of Art.
Kahlhamer is the recipient of a Peter S. Reed Foundation Grant (2017), and a Joan Mitchell Foundation Painters and Sculpture Grant (2006), and in 2015 received the Robert Rauschenberg Foundation Rauschenberg Residency. He was a Visiting Artist-in-Residence at the Bemis Center for Contemporary Arts in Omaha, Nebraska (in partnership with the Joslyn Museum of Art, Omaha) and an artist in residence with The Claude Monet Foundation in Giverny, France (2009).
Kahlhamer holds a B.F.A. from the University of Wisconsin Oshkosh, Fond du Lac Campus. Kahlhamer has served on the faculty of the School of Visual Arts, as a Visiting Artist and Critic at the University of Minnesota, and as a Richard Diebenkorn Teaching Fellow at the San Francisco Art Institute.