C.D. Wright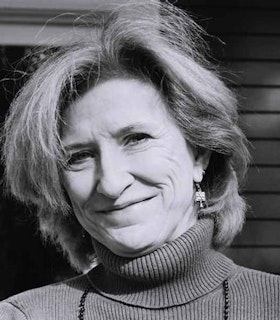 Artist Statement
Poems are my building projects. I inhabit them for the time it takes to have every corner lit, and then I clear out, taking what I think I need to start over. Invariably I have forgotten something I could really use; so I have to make do or figure out an unfamiliar, irregular means to make the next structure. Sometimes I work in discrete units; other times I work on an extended complex. Less and less am I persuaded by the medium's essence, and more and more I am pulled by its mutability. In recent years I have worked on various projects with photographer Deborah Luster. We are both restless in our processes, and stable in our sensibilities. We are both interested in exploring the possible ways by which you can make meaningful contact with a consciousness other than one's own without surrendering the possibilities to an obvious common ground. Ideally the result will be spacious, fierce, strange, homey, humorous, tragic, etc., etc., an earth station where almost anything can take place. More are welcome than can fit inside. I am not adverse to torching a place that is not habitable (so long as no one is inside). I will uncover a use for the ashes.
- 2000
Biography
C.D. Wright was a poet whose work has a deep connection to the Ozarks, although she spent significant periods in New York and San Francisco before moving to Rhode Island in 1983.
Wright authored several book-length poems, including Just Whistle (1993) and Deepstep Come Shining (1998). Her 1999 Grants to Artists award supported One Big Self: An Investigation (2007), a project that she undertook with photographer Deborah Luster to document Louisiana prisons. Subsequent to her FCPA grant, Wright published Steal Away (2002), a volume of selected poems, and the books Like Something Flying Backwards: New and Selected Poems (2003) and Rising, Falling, Hoveringg (2008). Her poems and essays have appeared in American Letters & Commentary, Arschile, Brick, Conjunctions, and Sulfur, among other publications. Wright composed and published two State literary maps, one for Arkansas, her native state, and one for Rhode Island, her adopted state.
After receiving her 1999 Grants to Artists award, Wright went on to be named a MacArthur Fellow in 2004; she was given the Robert Creeley Award and elected to membership in the American Academy of Arts and Sciences in 2005; and her volume of poetry Rising, Falling, Hovering (2008) won the International Griffin Poetry Prize in 2009. Wright's One With Others: [a little book of her days] was a finalist for the 2010 National Book Award in Poetry; in 2011 it was awarded a National Book Critics Circle Award for Poetry and the Lenore Marshall Prize from the Academy of American Poets. In 2013, she was elected a Chancellor of the Academy of American Poets. Before her 1999 FCPA grant, Wright was named State Poet of Rhode Island from 1994 to 1999. Among her honors then were two National Endowment for the Arts Grants, in 1982 and 1989, a 1987 John Simon Guggenheim Memorial Foundation Fellowship, and a 1999 Lannan Literary Award.
Wright received a B.A. in French from the University of Memphis in 1971 and an M.F.A. from the University of Arkansas in 1976. At the time of her death she was the I.J. Kapstein Professor of Literary Arts at Brown University. With her husband, poet Forrest Gander, Wright founded and ran Lost Roads Press for over twenty years.