C. Spencer Yeh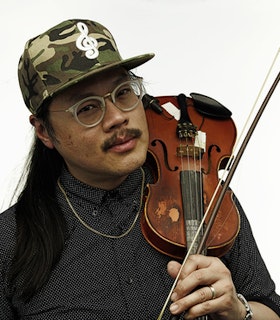 However you want to put it, the recognition, an acknowledgement, the sign from 'out of nowhere' to strongly encourage you to keep on doing the thing, and to take it further. To me, it feels like a cosmic vote to really trust the self that you have taken yourself towards, in pursuing the work you feel you must do, despite all. Another way to put it, I'd like to think, is that there is amazing work from artists that seriously don't translate into the usual awarded artist narrative that we want to see happen and continue.
- C. Spencer Yeh, December 22, 2019
Artist Statement
I see creating work as being similar to the way old cartoon characters blast through a wall––I'm way more interested in the ones who leave a hole that's the exact outline of themselves. Their vision challenges and pushes their current being and capabilities, and creates a tension and struggle uniquely their own. Now, the artist can wait and train to create more perfect and technically exact work—learning to use a saw to create a finely executed circle-shaped hole in the wall (there are many walls for those kinds of holes, certainly). Or they can madly throw themselves through that wall. I've also been told that I'm interested in working with the "paratextual" as primary material.
- December 2018
Biography
C. Spencer Yeh is a musician recognized for his interdisciplinary activities and collaborations as an artist, improviser, and composer, as well his music project Burning Star Core. After immigrating to the United States from Taiwan when he was a child, Yeh looked towards drive-in movies, local and public television, "Mom-and-Pop" video stores, and genre movie magazines as early guides in his developing interests. Though Yeh studied violin at a young age, as a teenager he forwent his training, considering his encounter with the 4-track tape recorder as his first real revelation in working with sound and music.
While attending the Radio/Television/Film program at Northwestern University, Yeh's study under professors such as Tom Gunning, involvement at the campus radio station WNUR, and internship at the record label Skin Graft were crucial to his education and understanding of interdisciplinary approach. After college, Yeh returned to his hometown of Cincinnati, OH where he played a key role in bringing artists and musicians through the area, organizing performances and events with galleries, cafes, music venues. A "noise" network in the midwest was soon forged with other like-minded individuals, with artists of many genres in conversation and collaboration. Yeh's self-publishing practice, primarily in cassette tapes and LPs, developed in conjunction with these performance activities, creating and enabling further opportunities for expression outside of presiding industries and institutions.
Yeh's exhibitions and performances include: Mei-Jia & Ting-Ting & Chih-fu & Sin-Ji at the Museum of Contemporary Art Cleveland, Cleveland, OH and Centre A, Vancouver, British Columbia, Canada (2018); Shocking Asia at Empty Gallery, Hong Kong (2017); Two Workaround Works Around Calder at the Whitney Museum of American Art, New York (2017); The World Is Sound at the Rubin Museum, New York (2017); Closer to the Edge at The Projector, Singapore (2016); Great Tricks From Your Future at the Downtown Contemporary Arts Festival (D-CAF) in Cairo Egypt (2016); Sound Horizon at the Walker Art Center, Minneapolis (2016); Tony Conrad Tribute at the Ultima festival in Oslo, Norway (2016); as part of Lampo at the Renaissance Society in Chicago (2015); An Evening with C. Spencer Yeh at the Museum of Modern Art, New York (2014); and The Companion at the Liverpool Biennial of Contemporary Art, Liverpool, United Kingdom (2014). He has worked with artists such as Robert Beatty, Tony Conrad, Chris Corsano, Aaron Dilloway, DJ Sniff, Paul Flaherty, Greg Fox, Chris Goudreau, Amy Granat with Jutta Koether, David Grubbs, Jandek, Stine Janvin Motland, Eli Keszler, Okkyung Lee, Brandon Lopez, Paul Lytton, Lasse Marhaug, Thurston Moore, Ikue Mori, New Monuments with Ben Hall and Don Dietrich, New Humans with Vito Acconci, Prurient, Jen Rosenblit, Jessica Rylan, Ryan Sawyer, Senyawa with Leila Bordreuil, Mike Shiflet, Colin Stetson, Rafael Toral, Trevor Tremaine, Ken Vandermark, John Wiese, Nate Wooley, and Chee Wai Yuen.
Yeh is the recipient of a residency from ISSUE Project Room (2015), and an Emerging Artist Jerome Foundation Commission from Roulette (2013). His video works are distributed by Electronic Arts Intermix. He is a senior editor and media producer at Triple Canopy, a contributing editor to BOMB Magazine, and volunteers as a programmer and trailer editor for the Brooklyn-based microcinema Spectacle Theater.