Camae Ayewa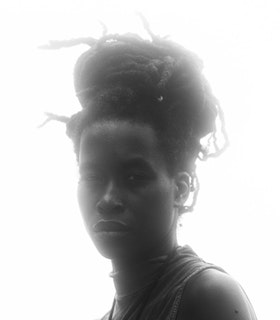 I have had an amazing year since winning the award. I have been touring and collaborating around the world. I have performed, exhibited artwork and facilitated workshops in 30 different countries… In 2019 I had the pleasure to perform at noted venues like The Kennedy Center, The Art institute of Chicago, the Institute of Contemporary Arts in London and Miami. I was commissioned by the University of Penn to study the Great Marian Anderson Archives to write a poem inspired by her life which was beautiful… The award has had a great impact on taking the pressure and stress away while creating and performing throughout the year.
- Camae Ayewa, January 14, 2020
Artist Statement
I am interested in the unknown and the myth. I am interested in collecting sounds and activating the past. I love collaborating with musicians that have an interest in studying history. Poetry is my foundation.
- December 2018
Biography
Camae Ayewa, also known as Moor Mother, is a national and international touring musician. She performs as a vocalist for numerous groups, including the punk band The Mighty Paradocs, free jazz group Irreversible Entanglements, hip hop experimental duo 700 Bliss, Mental Jewelry, and Zonal with The Bug and Justin Broadrick.
Moor Mother's debut album Fetish Bones (Don Giovanni Records, 2016) was reviewed and acclaimed by Jazz Right Now, Noisey, Pitchfork, Rolling Stone, Spin, and The Wire. Moor Mother was listed as one of Rolling Stone's "artists to watch" (2016), and was named Artist of the Year by both Bandcamp (2016) and Rad Girls (2017). Ayewa is co-founder and curator of ROCKERS!, a festival founded in Philadelphia in 2007 that presents the work of marginalized musicians and artists across multiple musical genres. She has shared the stage with artists and groups such as The Art Ensemble of Chicago, King Britt, Nicole Mitchell, and Claudia Rankine.
Ayewa's soundscape work has been exhibited at the Everson Museum of Art, Syracuse, NY; Institute of Contemporary Art at the University of Pennsylvania, Philadelphia, PA; and the Samek Art Museum, Lewisburg, PA. Her visual art has been shown at Bergen Kunsthall, Bergen Norway; Black Oak Gallery, Oakland, CA; The Kitchen, New York; and Vox Populi, Philadelphia. Her first book of poetry, Fetish Bones, was published in 2016 by the AfroFuturist Affair. Ayewa has been a guest curator at the Wysing Arts Centre's annual festival in Cambridge, England and Le Guess Who festival in Utrecht, Netherlands. As a member of Black Quantum Futurism Collective (BQF), Ayewa has been featured in exhibitions at the Rebuild Foundation, Chicago; Schomburg Center for Research in Black Culture, New York; Temple Contemporary, Tyler School of Art, Philadelphia; and has performed at the Click! Photography Festival, Copenhagen, Denmark; Dark Mofo, Tasmania, Australia; and transmediale festival, Berlin, Germany.
Ayewa is the recipient of a Leeway Transformation Award (2016) and fellowships from the Pew Center for Arts and Heritage (2017) and A Blade of Grass (2016). She has been an artist in residence at Neighborhood Time Exchange in Philadelphia and at WORM in Rotterdam, Netherlands.