Carl Stone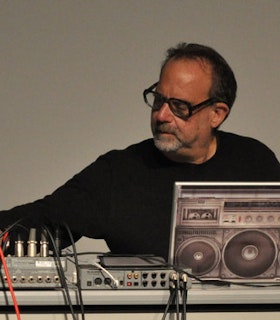 [The grant] has been a great practical aid and has provided me with considerable encouragement as well. I really feel that all the benefits of [the Foundation's] support will be with me for years to come.
- Carl Stone, January 29, 2001
Artist Statement
In 1975 I had a work-study position at the music library at CalArts. My job was to copy every record in the library onto tape for backup, so I had the opportunity to hear literally thousands of recordings of jazz, world music, electronic, early music, and contemporary classical. That itself was great, but more pivotal was the fact that in the process of dubbing multiple recordings simultaneously, as I had to do in the interest of time and efficiency, I listened to all sorts of virtual collages of different music. The random juxtapositions, with many interesting collisions and accidents inspired me and sparked my long-standing interest in musical quotation and appropriation as compositional techniques.
I have been interested in electronics and technology for music making since my studies at CalArts in the 1970s. Although my use predates the term by several decades, my basic technique is what has come to be called "sampling," where found or selected musical material serves as my compositional starting point. I perform most of my music myself using a laptop computer, in real time. These pieces are composed structures. Sometimes they are completely worked out in advance, but often improvisation plays an important role in filling in the details. I frequently use repetition and often limit my materials, so I have sometimes been miscategorized as a minimalist. Although I use—and am very interested in—technology, I consider it an inevitability of my process, not its raison d'être. I want people to somehow forget a computer is involved when listening to my music. I am interested in the transformation of familiar (or seemingly familiar) music, acting as a kind of sonic magnifying glass and revealing some acoustic truth the listener never suspected. I like to combine layers of meaning, stretched over time and cultures. Concretely, I usually take recorded sounds, often music, and subject it to radical transformation in the time or spectral domains, using software that I design myself. I hope to draw the listener into a strange world of altered perception and signification. I am interested in formal structures rooted in games and math, and things like palindromes often find their way into my pieces. I don't mind if my music is sometimes jarring or even a little uncomfortable; but I hope for some kind of beauty to be found there. The evolution of technology over time has enabled me to do things that I either dreamed in the seventies of but couldn't yet do, or hadn't even dreamed of! What used to be done painstakingly with tape-recorders and razor blades can now be done with the press of a key and a click of a mouse. These real-time capabilities have freed me and allowed me to work as a composer-performer and have given me an ability to improvise—something that I had never really done in the first fifteen years of my professional life as a composer.
- 2014
Biography
Carl Stone is one of the pioneers of live computer music and has composed electro-acoustic music almost exclusively since 1972. He has used computers in live performance since 1986.
Stone has been commissioned to create numerous works, including Thonburi (1989) as part of the radio series "Territory of Art" for The Museum of Contemporary Art, Los Angeles; Banh Mi So (1994), for ondes martenot and piano, for Takashi Harada and Aki Takahashi; Mae Ploy (1994), for string quartet and electronics, for the Strings Plus Festival, Kobe; Yam Vun Sen (1995), as part of IC95 for NTT/Japan; and Sa Rit Gol (1997), for disklavier and pianist, for Bay Area Pianists and Cal Performances. He created music for The Noh Project, a collaboration with choreographer June Watanabe and Noh master Anshin Uchida.
With funds from his 1999 Grants to Artists award, Stone collaborated with shamisen player/vocalist Yumiko Tanaka on Acid Gidayu beginning in 2000. They recorded and worked on material that became Lauburu, a thirty-five minute long composition for pipa, shamisen, and live electronics. It premiered in 2003 at the Transonic Festival in Berlin and was subsequently performed at The Concept of Viewing Festival in Stuttgart, the Strasbourg Museum of Modern Art, and Présences Électronique Festival, as well as venues in Japan and China.
Stone's music has been used by numerous theater directors, filmmakers and choreographers including Hiroshi Koike (Pappa Tarahumara), Akira Kasai, Bill T. Jones, Pat O' Neil, Ping Chong, Setsuko Yamada, Kuniko Kisanuki, Dorit Cypis, Rudy Perez, Hae Kyung Lee, Bruce and Norman Yonemoto, Kathleen Rogers, and Blondell Cummings. His musical collaborations include those with Yuji Takahashi, Kazue Sawai, Aki Takahashi, Yasuaki Shimizu, Sarah Cahill, Samm Bennett, Kazuhisa Uchihashi, Stelarc, z'ev, Tosha Meisho, Otomo Yoshihide, and Min Xiao-Fen. In 2011, the Getty Museum presented a retrospective concert of his work as part of the Pacific Standard Time Festival. He has performed at Ars Electronica, Linz, the Other Minds Festival in San Francisco, and TonArt in Bern.
Since receiving his 1999 Grants to Artists award, Stone has been in Japan as artist-in-residence at the International Academy of Media Arts and Sciences (2001) and in Italy as artist-in-residence under the sponsorship of the Civitella Ranieri Foundation (2011). Previous to his 1999 FCPA support, He lived in Japan under a grant from the Asian Cultural Council (1988). Stone is the recipient of a Freeman Award (1988) and a National Endowment for the Arts Grant. His Recurring Cosmos (1991), for High Definition video and electronics, was awarded special honors at the International Electric Cinema Festival in Switzerland.
Stone studied composition at the California Institute of the Arts with Morton Subotnick and James Tenney. In 1999, he was a Scholar-in-Residence at the Rockefeller Foundation Bellagio Study and Conference Center. In 2001, Stone joined the faculty of Chukyo University's School of Cognitive and Computer Sciences.
Stone served as a board member of the American Music Center from 1984 to 2002, he was the Director of Meet the Composer/California from 1981 to 1997, and he was Music Director of KPFK-fm in Los Angeles from 1978 to 1981. He hosted a weekly program on KPFA-fm in the Bay Area from 1994 to 2001 and from 2007 to 2009 he contributed a regular column to the American Music Center's New Music Box website. He has served as web editor of Other Minds and the official website of the John Cage Trust.