Carlos Martiel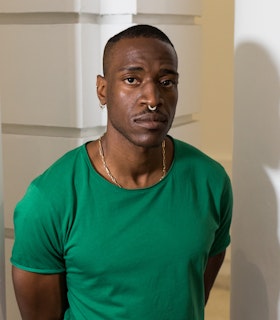 Artist Statement
My artistic practice focuses on visualizing power relations through the medium of performance. I am also interested in exploring the nature of existence, cultural traditions, and social injustices that occur inside and outside my country of origin. My work criticizes the values on which today's society is established, specifically the racist or xenophobic practices with which certain groups of immigrants and non-white minorities have been marginalized and oppressed. Building on histories across borders and cultures, I comment on social tensions while both embodying and challenging commonly perceived limits.
- December 2021
Biography
Cuban performance artist Carlos Martiel uses his physical presence to materialize embodied traumas and confront historical and ongoing harms inflicted upon the Black male body.
Martiel's work addresses topics spanning structural racism and systemic violence against Black and immigrant bodies, criminalization of homosexuality and transsexuality, and political disfranchisement. His performance series "Monumento" centers and elevates his own nude body in a reference to traditions of monumental statuary that also underlines the vulnerability of marginalized peoples. Monumento I—presented as part of ESTAMOS BIEN: LA TRIENAL 20/21 at El Museo del Barrio, New York, NY (2021)—is an ephemeral memorial to those who have been discriminated against by Eurocentric supremacist culture; for the performance, Martiel stood naked on a pedestal, his body coated in the blood of migrant, Latinx, African-American, female, Native American, Jewish, Queer, and transgender individuals.
Martiel has performed at the Solomon R. Guggenheim Museum, New York, NY (2021); The Leslie-Lohman Museum of Art, New York, NY (2021); Stedelijk Museum, Amsterdam, Netherlands (2019); La Tertulia Museum, Cali, Colombia (2018); and Walker Art Center, Minneapolis, MN (2017). He has presented work at international art festivals including Sharjah Biennial 14, Sharjah Art Foundation, Sharjah, United Arab Emirates (2019); 57th Venice Biennale, Venice, Italy (2017); The Other Biennial, Bogotá, Colombia (2013); and The Havana Biennial, Havana, Cuba (2009). He has exhibited at The Museum of Latin American Art, Long Beach, CA (2018); The São Paulo Museum of Art, São Paulo, Brazil (2017); The Patricia & Phillip Frost Art Museum, Miami, FL (2016); Zisa Zona Arti Contemporanee, Palermo, Italy (2016); The Benaki Museum of Greek Culture, Athens, Greece (2016); and National Museum of Fine Arts of Havana, Havana, Cuba, among others.
His works are in the collections of the Solomon R. Guggenheim Museum, New York, NY; The Pérez Art Museum Miami, Miami, FL; and Museu de Arte do Rio, Rio de Janeiro, Brazil.
Martiel has received several awards, including The U.S. Latinx Art Forum, Latinx Artist Fellowship (2021); a Franklin Furnace Fund Grant (2016); the Cisneros Fontanals Art Foundation, Grants & Commissions Program Award (2014); and the Arte Laguna Prize (2013).
Martiel holds a B.F.A. from the National Academy of Fine Arts "San Alejandro," and attended Cátedra Arte de Conducta, directed by the artist Tania Bruguera.