Carmina Escobar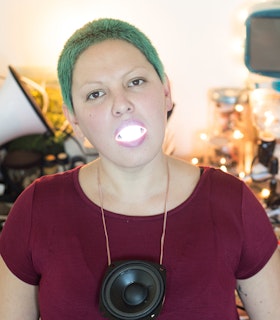 I can't express how this award came at a more pivotal moment in my life as I was in a deep existential crisis regarding my sustainability as an artist being a Latinx immigrant on an O1 visa in the USA coming from a lower middle-class family of high school teachers in Mexico City. My practice relies on the experimentation of not-commodifiable sonic ideas, extreme vocal performance, and conceptual explorations of my vocalities and its intersections with my reality that I just never knew how to make a living from. Even though I work at a higher-level institution and have a heavy load of work, the pay is under par and with no benefits being only part time, and highly taxed as a foreigner, making ends meet was a heavy task on top of making work and being my only support system.
It is at this point that I got the call from the Foundation for Contemporary Arts. I was not in survival mode for the first time ever. I didn't have to take any extra work on top of the extra work to make ends meet. I started to envision what is needed to be able to keep creating without compromise, to be able to create a sustainable network with a strong base and to also extend this to my collaborators to keep on keeping on!
- Carmina Escobar, December 20, 2020
Artist Statement
I seek to convey through my work the emotional, experiential, and relational dimensions of Sound. As I investigate sound from my primary source and instrument, the voice, I relate in my practice its multilayered, complex, physical realm and its metaphysical essence in order to create works that explore the body; identities; syncretism; magic realism; myths; and connection between people, spaces, and symbols. I intersect and translate this sonic phenomenon via different mediums such as performance, installation, music, electronic media, site-specific projects, and improvisation. My work is oriented to interject, move, and integrate the audience as an active participant in the pieces to bring about transformation in shared time and space.
- December 2019
Biography
Carmina Escobar is an experimental vocalist, improviser, and sound and intermedia artist. Her practice—comprising installation, performance, and multimedia projects—focuses on sound, the voice, and the body, and their interrelations with physical, social, present, and memory spaces.
Escobar has developed a range of vocal techniques that she applies to her creative practice and also to investigations of radical ideas and concepts regarding the voice. Having emigrated from Mexico to live and work in Los Angeles, key to her practice is the exploration of interstitial states of being—suspensions between worlds, between politics, and at borders. In 2019, she received a Foundation for Contemporary Arts Emergency Grant to present Mami in the exhibition Cantos Comunes/Common Chants at The Blockhouse in Havana, Cuba. This participatory and process-oriented piece was developed in the days leading up to the performance. Escobar used the idea of Mami Wata—a water deity venerated in West, Central, and Southern Africa—as an expression of diaspora, and to reference ideas of fertility and togetherness.
She has presented her work in Cuba, Europe, Mexico, and the United States including at Borealis Festival, Bergen, Norway; Cuban Art Factory, Havana; CTM Festival, Berlin; and New Music Encounters + International Music Festival, Brno, Czech Republic. Her work FIESTA PERPETUA! a communitas ritual of manifestation (2018) was included in Pacific Standard Time: LA/LA, Los Angeles. Her work has also been presented at the MexiCali Biennial, Pasadena; Machine Project, Los Angeles; MATA festival, New York; REDCAT, Los Angeles; and World Dada Fair, San Francisco, among others.
In 2016, Escobar received the Young Creators grant from the National Fund for Culture and Arts, Mexico and a grant from the National Center for the Arts, Mexico. Escobar completed an M.F.A. with a specialization in Voice Arts at California Institute of the Arts, where she is a professor. Her 2020 Grants to Artists award supported two ventures: HOWL SPACE, an online radical vocal pedagogy hub, with voice lessons, artistic workshops, voice salons, and free community workshops with Micaela Tobin; and BOSS WITCH PROJECTS with Madeline Falcone and Madison Heying, an artistic production company focused on the interconnection of experimental scenic works, sound art, ritual performance, video art, multi-interdisciplinary, intermedia collaboration within natural landscape.