Catherine Lamb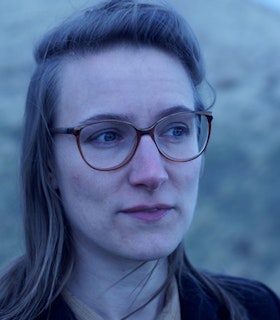 I feel very fortunate that this award comes at a time when I am making more and more of my living from paid commissions. Before the notification of the award one year ago, I had accepted a string of commissions for 2018, which was more than I had ever received at one given instance. I had already agreed to the work and was committed to it. Although it pushed me to go into unexpected territories and I learned a lot from those experiences, knowing that I had this award to fall back on gave me the luxury to plan future projects more carefully, and more from my own intentions and desires... one of the greatest, euphoric luxuries is the ability to say 'no.' Therefore the award, for me, is still in its early stages and will carry me into 2019 and beyond.
- Catherine Lamb, December 12, 2018
Artist Statement
Formally, I follow the long introduction. Music is allowed to exist in a perceptual frame as outside extracted into inside, while the inner life of interacting tones are reverberating out, harmonically expanding and becoming more and more clear. Often beginning with more reduced and narrowed bands of a larger structure, I work with the most elemental particles of tonality and time (human experience). Harmonic space is filtered into materiality and highlighted alongside acoustic instrumentations.
Saturation is the multiplicity of voices, reinforcing a particular coloration or timbre, in the most basic terms by unison voicing or otherwise harmonic concordance, often favoring a particular prime within the harmonic spectrum.
Intensity is formed out of various interacting points in a harmonic field. Shifts in intensity can be used rather than volume adjustments, following the intention that the interaction of tone directs these natural or conceptual (ideal) expressivities.
Aggregate is the memory of what came before and augmenting the current articulation/material, as many parts that make up a total structure.
An Atmosphere is created when a highly concentrated individual traces through opaque and transparent colorations, alone or with others, failing beautifully.
- December 2017
Biography
Following interacting points within expanding harmonic space, Catherine Lamb has devoted her structural work to the inner life of tonality, constantly searching through the limits of human perceptions and resonances in overlaying atmospheres.
Lamb's continued series Prisma Interius (2017-18), supported by her 2018 Grants to Artists award and made with her partner and frequent collaborator Bryan Eubanks, filters the outside environment into a harmonic field, basso continuo, tanpura, or bridge between the musical form and the perceptual listening space. Her first orchestral work, Portions Transparent/Opaque (2014), was premiered by the BBC Scottish Symphony Orchestra at the 2014 Tectonics Festival in Glasgow, Scotland. After an extended tour of her solo work Shade/Gradient (2012) through North America in 2012, Lamb received a travel grant from the Henry Cowell Foundation, allowing her to pursue work with Eliane Radigue and to form new relationships with European musicians. Earlier in her career, Lamb studied under composers James Tenney and Michael Pisaro at the California Institute of the Arts, where she also met director and dhrupadi Mani Kaul. It was during this time that she began diving deeply into her own practice of what she later termed "the interaction of tone."
Lamb is the co-founder of Singing by Numbers (2009-11), an experimental vocal ensemble formed with Laura Steenberge that focused on pedagogical research around pure ratio tuning. She has written for ensembles such as Ensemble Dedalus, Konzert Minimal, the London Contemporary Orchestra, NeoN, Plus/Minus, and Yarn/Wire. Lamb is involved in ongoing research with Marc Sabat on intonation; with Johnny Chang on Viola Torros; develops work regularly with musicians such as Rebecca Lane, Dafne Vincente-Sandova, and Frank Reinecke; as well as taking part in Triangulum with Julia Holter and Laura Steenberge.
Lamb is the recipient of a fellowship from Akademie Schloss Solitude (2016); an Emerging Composers Grant from the Wallace Alexander Gerbode and William and Flora Hewlett Foundations (2008-09); and was a Staubach Fellow at the International Summer Course for New Music in Darmstadt, Germany (2016). Lamb's writings and recordings have been published by another timbre, Black Pollen Press, Kunst Musik, NEOS, THE OPEN SPACE Magazine, Q-O2, sacred realism, and winds measure recordings. She received a B.M. from California Institute of the Arts, and an M.F.A. in music/sound from Bard College.