Cauleen Smith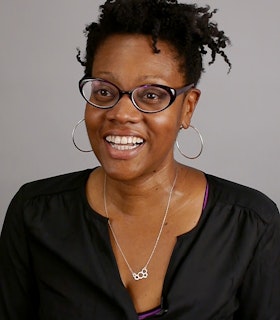 My goal is to own a commercial multi-use incoming generating building in Chicago… My partners and I have created a proposal to turn the building into affordable artists studios, a top floor of live-work residence space, as well as after school programs, a community bike shop, a woodworking design-build studio, a ceramic studio, a print shop, and community gardens… The FCA grant transformed intentions into actions…
- Cauleen Smith, December 12, 2014
Artist Statement
My training in filmmaking, both experimental and classical narrative, has provided me with a peculiar skill set, which seems to be in happy alignment with the ever-growing wave of art practices operating in the social sphere. I attempt to design live events (for the film frame) that disrupt popular assumptions and protest the status quo while simultaneously celebrating the quotidian and mundane. Improvisational music practices, speculative fiction, African-American history, and processional forms are at the foundation of my conceptual interests even while the products of such procedures can potentially take many forms (performance, sculpture, 16mm film, photographs, books, or immersive spaces). The objects and static images that I make (whether they be drawings or photographs) are generated from the demands of the moving images I produce. Moreover, object making mimics the ways in which films and videos are experienced and distributed by favoring the multiple and the reproducible collectible over the singular object through investigations. The gendered and marginal expression of craft is favored over industrial fabrication and commercial sheen. Through these works I hope to create temporal and spatial ruptures in which the destabilization of one's interiority can momentarily expand and make room for new affinities, empathies, and consciousness.
- December 2013
Biography
Cauleen Smith is an interdisciplinary artist whose work reflects upon the everyday possibilities of the imagination. Rooted within the discourse of mid-twentieth century experimental film, Smith draws equally from the tactics of structuralism, third world cinema, and science fiction in an attempt to make things that nod to these references while offering a phenomenological experience for spectators and participants.
Smith's films, objects, and installations have been featured in group exhibitions at the Studio Museum in Harlem, Houston Contemporary Art Museum; the Blanton Museum of Art, Austin; the San Diego Museum of Contemporary Art; Yerba Buena Center for Arts; the New Museum, and Liepzig and Berlin. Smith has had solo shows at The Kitchen, the Museum of Contemporary Art Chicago, Threewalls, Chicago, and Women & Their Work, Austin, TX.
Prior to receiving her 2014 Grants to Artists award, Smith's film Drylongso (1998) won Best Feature Award from Urbanworld Film Festival and the Pan-African Film Festival, Los Angeles. Smith was the recipient of a Creative Audio Archive Research, Experimental Sound Studio Residency (2011), a National Alliance for Media Arts and Culture, Artist Award (2012), a Washington Park Arts Incubator, Arts and Public Life Residency (2013), and a 3Arts Award (2013). Following her FCA support, Smith received the Herb Alpert Award (2016), the United States Artists Fellowship (2018), and the Joyce Alexander Wein Prize (2020).
Smith earned a B.A in Cinema from San Francisco State University in 1991 and an M.F.A. from the University of California, Los Angeles in 1998. Smith studied with Trinh T. Minh Ha, Angela Davis, and Lynn Hershman-Gleeson at San Francisco State University. She attended the Skowhegan School of Painting and Sculpture in 2007. Smith lives in Chicago while teaching at the Vermont College of Fine Art low-residency M.F.A. program.