California College of the Arts Wattis Institute for Contemporary Arts: Lydia Ourahmane exhibition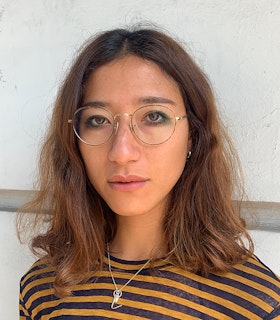 Artist Biography
Lydia Ourahmane was born in Algeria in 1992. After living in London for seventeen years, Ourahmane returned to Algiers in 2018, where she currently lives and works. Ourahmane received her B.F. A. from Goldsmiths, University of London in 2014. In her multidisciplinary practice, she explores themes of escape, departure, displacement, and immigration, often reflecting on the government restrictions and invisible barriers that regulate human movement.
Ourahmane has exhibited her work internationally in biennials and group exhibitions, including at Manifesta 12 (Palermo, Italy, 2018), Songs for Sabotage, the New Museum Triennial (New York, NY, 2018), and the 15th Istanbul Biennial (2017), among others. The CCA Wattis Institute's exhibition was the first solo museum exhibition of her work in the United States.
About the Exhibition
In spring 2020, the California College of the Arts Wattis Institute for Contemporary Arts (CCA Wattis Institute) presented an exhibition of new work by Algiers-based multidisciplinary artist Lydia Ourahmane, curated by Anthony Huberman, Director and Chief Curator.
The 2019 Ellsworth Kelly Award supported the first solo museum exhibition of Ourahmane's work in the United States, and featured new work created by the artist since returning to her birthplace of Algeria in 2018. Having explored the politics and trauma of migration in her work in recent years, and particularly the restrictions preventing freedom of movement that are placed on so many from North Africa, Ourahmane considered it imperative to make work "from," rather than "about," Algeria. Working in sound, installation, sculpture, text, and performance, Ourahmane's research-based practice often incorporates personal history, and reflects on the effects of migration policies on the body, and how the body inhabits space.
The CCA Wattis Institute was founded in 1998 at California College of the Arts in San Francisco, and is located a few blocks from campus. A nonprofit exhibition venue and research institute, the CCA Wattis Institute commissions and shows new work by emerging and established artists who take risks and experiment with new ideas that challenge our understanding of contemporary culture.