Cedar Sigo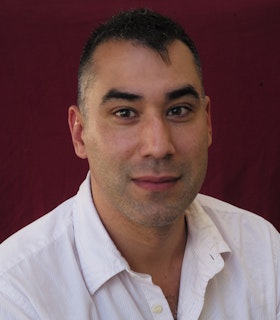 Artist Statement
Poetry feels like a religion that I form out of fragments. The intensity of this courtship can prove to be unrelenting and all-consuming. I used to hurry into containing the event of the poem through numbering or slapping down titles, hoping that my mind would consider the poem finished and then click forward. Lately, I have been trying to hold off on this immediate need to impose an order, to allow the mind to be still, to let my poems just stand and reflect off of one another. It's like giving up any immediate distinction between writing a poem and jotting down a throbbing, aching idea for a poem. The compression I bring to the act of note-taking can result in a kind of scribing space; it's as though the rush to move my strategies into language imparts an immediate pulse to the material, like storming the gates of the serial poem. I come to realize (all over again) that a fragmented take can sometimes be the most accurate.
- December 2021
Biography
Poet Cedar Sigo was raised on the Suquamish Reservation in the Pacific Northwest. Sigo's poetic practice emerges in the intimately physical act of scaling gaps between fragments of language, converting the embodied experience of diction into textual artifacts.
Sigo's All This Time (Wave Books, 2021) takes the poetic canon as its subject, by turns paying homage to and challenging the hallowed footsteps of writers such as Ted Berrigan, Kevin Killian, Jack Spicer, Rainer Maria Rilke, and even Sappho. Sigo's poems meditate upon the transformation of a tradition, observing how that which was once iconoclast becomes a standard and exploring the borderline between evolution and decay. His other poetry books and pamphlets include Royals (Wave Books, 2017); Language Arts (Wave Books, 2014); Stranger in Town (City Lights Publishers, 2010); and two editions of Selected Writings (Ugly Duckling Presse, 2005 and 2003). Guard The Mysteries (Wave Books, 2021) chronicles six lectures that Sigo delivered for the Bagley Wright Lecture Series in 2019.
Sigo is the recipient of an Allen Ginsberg Visiting Fellowship from Naropa University (2020) and a Lannan Foundation Residency (2017).
He has taught workshops at Bard College, Naropa University, and Saint Mary's College of California. He is a mentor in the low residency M.F.A. program at The Institute of American Indian Arts. Sigo studied at the Jack Kerouac School of Disembodied Poetics at the Naropa Institute from 1996-1999.