chameckilerner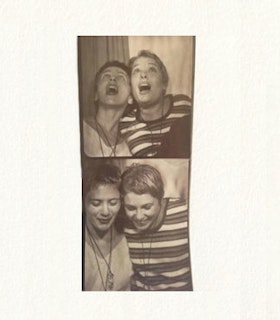 We really appreciate the grant and the freedom it provides. We believe that the success of artists depends also on the time we are allowed to dedicate to art.
- chameckilerner, May 2, 2000
Artist Statement
In twenty years working and growing together it is inevitable to recognize the transformation that followed us, Rosane and Andrea, changing in age, in shape, in our personal and artistic needs. It has been with immense excitement that we embraced those changes.
What has been relentlessly at the core of our work are questions involving the body and its presence, and the concrete experiential preposition of our performances. From the struggling bodies of our initial works, obsessed with its intensions and busy resolving its tasks, to our deranged bodies of the late 1990s, full of internal mechanisms of desire, to the social bodies of our latest works conflicted between the intimate and the public, the work has always been a magnifying glass into the unspoken humanity enclosed in those bodies.
- 2014
Biography
chameckilerner is a twenty-year collaboration between Rosane Chamecki and Andrea Lerner. Their work has been presented in the U.S. by Dance Theater Workshop, The Joyce Theater, The Kitchen, Performance Space 122, the Portland Institute for Contemporary Art, Mass MoCA, Diverseworks, Jacob's Pillow, and American Dance Festival. chameckilerner has toured extensively throughout Brazil, as well as Canada, Venezuela, Colombia, Costa Rica, El Salvador, Portugal, the Netherlands, the United Kingdom, Austria, Germany, Denmark, and Finland.
With support from their FCPA grant, chameckilerner re-staged Please Don't Leave Me at Performance Space 122 for the New York season in February 1999, and began research, booking, and management for I Mutantes Seras (1999).
In 2007, chameckilerner premiered Exit, an "artistic suicide of the duo," at The Kitchen in New York City. In 2008 their first short video, Flying Lesson, won the Jury Award at the 36th Dance on Camera Festival at Lincoln Center and was shown in more then twenty International Film festivals. In 2009, chameckilerner collaborated with Phil Harder on the film shorts The Line and The Collection; completed two other videos, Conversation With Boxing Gloves Between Chamecki And Lerner, commissioned by Performa 09 and the San Francisco Museum of Modern Art; and Jackie & Judy, an ode to Norman McLaren's Pas De Deux. In 2012, the duo was awarded a New York State Council on the Arts Grant and produced Chaplin A Deux in a residency at Basilica in Hudson, New York. During 2013 and 2014, the duo worked on two new video installations, Eskasizer and Samba #2, through a residency at Experimental Media and Performing Arts Center (EMPAC) at Rensselaer Polytechnic Institute. In January 2015, Eskasizer, a four-channel installation, and Samba #2, premiered at EMPAC.