Charles Amirkhanian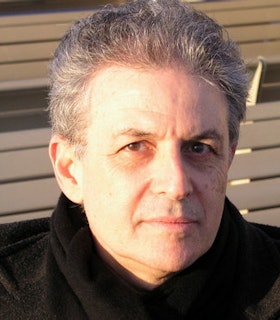 The [Grants to Artists] award was pivotal in allowing me creative time to compose and then finally enabling me to reinvent my work life in a new, constructive direction that otherwise would not have been possible. I am incredibly grateful to the FCA for their intervention at a time that was very crucial in my composing life.
- Charles Amirkhanian, November 4, 2008
Artist Statement
The following is an excerpt from the booklet produced for the premier of Pianola (Pas des mains)(1997-2001), on Westdeutscher Rundfunk (WDR) radio station, Cologne, Germany (2001).
Amirkhanian's venture into the field of player piano music takes precedent in his lifelong interest in the instrument's possibilities for making experimental music. Pianola (Pas des mains), a new hörspiel [(radio-play)] was composed between 1997 and 2000 in celebration of the centenary of the invention of the player piano, and the centenary of the birth of George Antheil. Included are samples of historical piano player rolls of classical and popular music by Rachmaninoff, Stravinsky, Honegger, Antheil, Toch, Nancarrow, and other classical composers. Using digital technology, Amirkhanian recorded player piano rolls by numerous composers in London in 1997. He consulted with two men who founded the Pianola Institute, Rex Lawson and Denis Hall. Their collections of piano rolls, totaling over 10,000, became the basis for this work.
This instrument, which made possible the performance of complicated scores without the presence of an actual pianist, was often used not only to perform music by classical composers but also to afford the opportunity to compose music which otherwise would not be playable, such as Antheil's Ballet Mécanique (1924) and the player piano compositions of the late Conlon Nancarrow, whose use of the instrument took its possibilities to the extremes of complex invention.
Amirkhanian's background as a composer includes years of advocacy of the music of composer George Antheil, who composed his Ballet Mécanique for multiple pianolas, percussion, sirens, doorbells, and airplane propellers in 1924. Amirkhanian also produced recordings for Wergo Schallplatten of the complete studies for player piano by the innovative American-born composer Conlon Nancarrow.
Biography
Charles Amirkhanian is a composer, percussionist, and poet. He is known for his text-sound compositions that employ speech sounds in rhythmic patterns that resemble percussion music, and for his electroacoustic essays incorporating acoustic ambient sounds alongside more traditional musical tones that create disjunct, trance-like dreamscapes.
From 1975 to 1986 Amirkhanian performed theatrical realizations of his sound poetry with projections by Carol Law at venues such as the Stedelijk Museum, Amsterdam; the Walker Art Center, Minneapolis; the San Francisco Museum of Modern Art; New Langton Arts, San Francisco; and throughout Australia. Recently he has performed in Berlin, Beijing, Linz, Huddersfield, Moscow and St. Petersburg. Amirkhanian's music is available on two solo CDs, Walking Tune and Mental Radio. His pieces include Symphony No. 1, Politics As Usual, Marathon, Never Say Die, Quince Quinoa, and Mqsical Lou.
Amirkhanian has been awarded numerous composer commissions from the National Endowment for the Arts, Westdeutscher Rundfunk, Meet the Composer, the British Broadcasting Corporation, and the Australian Broadcasting Corporation, the 1984 Summer Olympics, the Arch Ensemble and Ensemble Intercontemporain. Choreographic accompaniments to his music have been choreographed by Bill T. Jones, Anna Halprin, Margaret Fisher, Nancy Karp + Dancers, and Richard Alston.
Subsequent to his 1997 Grants to Artists award, Amirkhanian was awarded the first Ella Holbrook Walker Fellowship for a yearlong residency at the Rockefeller Foundation's Bellagio Study and Conference Center on Lake Como in Northern Italy in 1999. Here, Amirkhanian established an electronic music facility for the foundation and composed Pianola (Pas de mains) for WDR Cologne. Amirkhanian received the 2005 Letter of Distinction from the AMC at Other Minds, and in 2009 the ASCAP/Chamber Music America Award for Adventurous Programming of Contemporary Music. Prior to his 1997 FCPA grant, Amirkhanian received the Letter of Distinction from the American Music Center (AMC) in 1984 for his work at KPFA Radio and the Deems Taylor Award from American Society of Composers, Authors, and Publishers in 1989.
Amirkhanian graduated with a B.A. in English from California State University, Fresno and received an M.A. from San Francisco State University. He co-founded Other Minds Foundation with Jim Newman in 1993 and is its Executive and Artistic Director. In addition to programming and directing the Other Minds Festival since 1993, Amirkhanian has led the organization in producing many additional concerts devoted to the work of the American experimental tradition, establishing a record label, a weekly radio program, the website radiOM.org that provides access to new music information, and commissioning new work annually from composers around the world. Amirkhanian served as Music Director of KPFA Radio in Berkeley from 1969 to 1992 and Executive Director of the Djerassi Resident Artists Program from 1993 to 1997.