Chris Corsano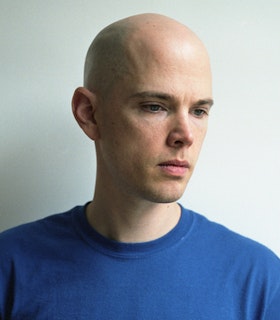 [The award] allowed me the time and resources to bring different concepts to fruition and also the freedom to chase a few more far-reaching ideas down a rabbit hole or two. Most importantly, the grant provided the means and encouragement for me to keep on pushing ahead. In the past year, I traveled extensively seeking out new collaborations and building upon old ones. While at home, I focused on inventing and improving extended techniques for percussion as well as working to develop a personal language on less familiar (to me) instruments... The rate and breadth of these developments would not have been possible without the help of the Foundation for Contemporary Arts.
- Chris Corsano, December 13, 2017
Artist Statement
I've always been equally drawn to the rumblings from underground noise/rock scenes as to the immediacy and liberation found in the free jazz/improvisation continuum running from Ornette Coleman through to the present day. The music I make owes a massive debt to the ethos shared by these fields: a fierce D.I.Y. spirit of self-determination, constant pursuit of new sounds and ideas, the primacy of live-and-direct performance for reaching an audience, and an affinity for collaboration and cross-pollination among musicians and other artists. This philosophy not only informs my drumming, but extends to all other related aspects of expression like instrument-building, audio engineering and production, video art, and running a small record label, Hot Cars Warp Records. From this approach, I hope I can build a music from the ground up that prizes deep listening, collective action and improvisation, and inventiveness—and that this music will have real emotional resonance for listeners.
- December 2016
Biography
Chris Corsano is a drummer who has been working at the intersections of collective improvisation, free jazz, avant-rock, and noise musics since the late 1990s. His work incorporates spontaneously composed amalgams of extended techniques for drum set and non-percussion instruments of his own making that are incorporated into his kit. Examples of these invented instruments include violin strings stretched across drum heads, and modified reed instruments that transform the drums into resonators which can, in turn, be used to incite strips of metal to react to the drum membranes' Chladni-plate-like modes of vibration.
Corsano's 2017 Grants to Artists award supported his travel to Japan to tour with saxophonist Mette Rasmussen; to Berlin, Germany to play with Nate Wooley, and with his quartet, which includes Christine Abdelnour, Okkyung Lee, and Magda Mayas; as well as a solo tour through Australia.

Corsano's solo recordings include The Young Cricketer (Hot Cars Warp, 2006); Blood Pressure (Hot Cars Warp, 2006); Another Dull Dawn (Ultra Eczema, 2009); and Cut (Hot Cars Warp, 2012). In addition to his solo work, Corsano has a long-standing, high-energy musical partnership with saxophonist Paul Flaherty. Their style, which they occasionally refer to with (semi-)tongue-in-cheek humor as "The Hated Music," infuses modern free-jazz's ecstatic collectivism with the urgency and intensity of hardcore punk.
Corsano's dedication to collective improvisation has resulted in his appearance on over 140 records and 1000 live performances. He has collaborated with, among others, Björk (Volta world tour, 2007-8); Michael Flower; Vampire Belt (with Bill Nace); Rangda (with Richard Bishop and Ben Chasny); Paul Dunmall (ESP-Disk); Joe McPhee (Roaratorio); Mette Rasmussen (Hot Cars Warp Records & Clean Feed); John Edwards (OTOroku & Dancing Wayang); Sylvie Courvoisier (Relative Pitch); Nate Wooley (No Business & Astral Spirits); Jim O'Rourke & Akira Sakata (Drag City & Polystar); Jessica Rylan (Load Records); Nels Cline (Strange Attractors); Heather Leigh (Family Vineyard); Sunburned Hand Of Man (Manhand); and Wally Shoup (Leo & Columbia Japan).
Corsano was an Artist-in-Residence at Incubate Festival in Tilburg, Netherlands (2011) and at Café OTO in London (2014), as well as an Improviser-in-Residence at the Hopscotch Music Festival in Raleigh, NC (2012).