Claire Hong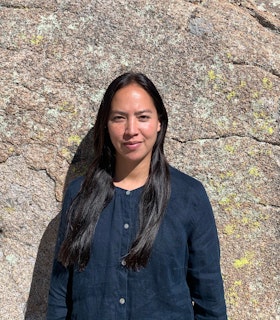 Artist Statement
I'm more concerned with the daily happenings—what noticing allows—than major events in poetry. I can memorize the way the state characterized the births and deaths of my ancestors. I'm more interested in what they ate, said, and did in a moment, and that's nearly impossible to find. How do the mind and body learn to rubber band the bundles of greens to get the exact count needed by the end of the row? It's somewhere between thinking and not thinking. Archival research can be mundanely fun, like remembering a dream. Both feel separate from and attached to the self. Within this tension, curiosity springs forth. It's the mystery within parameters that moves me. How does a seed know (or remember) when to wake from dormancy? Sometimes I think I recognize a stranger, and I wait for their face to turn into the face I know. The moment of unrecognition catches me. I can't stop looking and waiting. Or someone tells me I look exactly like someone they know, and I wait for the moment to pass.
- December 2022
Biography
Claire Hong is a poet and agricultural worker whose daily life and writing practice involve researching and searching for cross-cultural, interspecies, and intergenerational relationships that have formed and form outside of, or despite, imperialism. She questions and mimics the lyric, the long line, and metaphor. Dedicated to traditional foodways, land stewardship, and multigenerational community work, Hong also works to provide arid-adapted seeds and resources to gardeners and food security projects of the Southwest.
Hong is the author of Upend (Noemi Press, 2020), which examines United States government-designated recreational spaces, genocide, and intergenerational trauma, identifying imperialistic residue in the naming of products, places, and colors. The book loosely navigates the 1912 immigration trial of Hong's Alaska Native and Chinese grandfather, Hong On, which took place during the Chinese Exclusion Act on Angel Island, CA.
Hong was longlisted for the 2021 PEN/Voelcker Award for Poetry for Upend. She received a Wallace Stegner Fellowship in Poetry from Stanford University (2019–2021).
Hong has an M.F.A. from The University of Arizona and a B.F.A. from Pratt Institute. She has held several positions as an agricultural and community worker, editor, and English lecturer.