Clarinda Mac Low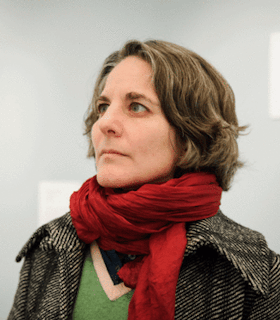 2007 was an amazing year for my art-making. As often happens, the FCA [grant] was followed by other excellent support, and I ended up making three major pieces in the first half of the year, all of them substantial developments in my practice...
- Clarinda Mac Low, January 12, 2008
Artist Statement
My work investigates intimacy and community, leading the audience on a journey of discovery, and excavating the lost, the forgotten and the overlooked. I explore hot subjects through a cool lens, using the scientific method to expose the ways we exist physically with each other, with technology, with architecture, and with history. I often take on issues of historical memory, keeping the past alive in the present by parsing our relationship to information and objects.
The iterations of these explorations put the emphasis on experience, involving the audience in an active decision-making process. I use whatever tools are needed at the time, including physical interaction, directed wandering, technological mediation, unscripted conversation, and imaginative play, often creating installations and interventions in unusual spaces. Collaboration and participation are cornerstones of my methodology; I often organize large groups of creative people of all ages around a single idea. I believe that momentary interactions, framed in the right way, can incite spontaneous community and create unusual alliances and new modes of thought. Recent experiments include copyright questions via orphaned creative works, dance-concerts-as-ethnography (complete with data analysis), a Cyborg interlocutor that acted as a connection between human and machine worlds, public interventions that literally carry people away, and a roving natural history research tour of North Brooklyn.
I believe that part of my job as an artist is to nurture other artists and encourage creativity in all different types of people, and I am committed to creating innovative dialogues across all creative disciplines. I do this through formal and informal teaching and mentoring, and through Culture Push, an organization I created with artists Arturo Vidich and Aki Sasamoto. Culture Push runs programs that encourage participation and face-to-face interaction as an integral part of an ongoing cultural dialogue.
- December 2014
Biography
Clarinda Mac Low began working in dance and molecular biology in the late 1980s and now works in performance and installation. Her choreographic works are often participatory events that involve collaboration and site-specific creations.
Mac Low's 2007 Grants to Artists award supported the production of MURDER is a habit that REMORSE cannot cure (2007), a work-in progress version of DAGGER; Salvage/Salvation 5: ARISE (2007); and Tryst: Security Zone (2007). Her works subsequent to her 2007 FCA grant include TRYST: Sign Language (2009), TRYST: River to Creek (2010), TRYST: Assisted Street Crossing: KUOPIO (2011), TRYST: Assisted Street Crossing: Portugal (2013), a series of performance interventions into everyday life; Cyborg Nation (2009), a public conversation on the technological body and the nature of intimacy; The Year of Dance (2012), an anthropology of the New York City dance world; and Free the Orphans (2014), a project based around creative work with unknown copyright holders.
Mac Low's works are often site-specific, but before she received her 2007 FCA grant, her work had been presented in New York at Danspace Project (1991, 1992, 1996, 2012), Performance Space 122 (1992, 1994, 2001), The Kitchen (1997, 2008), chashama (2003), and Lower Manhattan Cultural Council's Sitelines Festival (2004, 2007).
Since receiving her 2007 FCA grant, Mac Low was awarded a Franklin Furnace Fund for Performance Art grant (2010); she was also a guest at Yaddo and Mount Tremper Arts in 2012. Prior to her 2007 Grants to Artists award, Mac Low had been a MacDowell Fellow (2000), she received a BAXten Award (2004), and she was a Dance Theater Workshop Artist Resource and Media Fellow (2004-2005).
Mac Low earned a B.A. in Dance and Molecular Biology from Wesleyan University in 1987 and an M.F.A. in Digital and Interdisciplinary Arts Practice from the City University of New York in 2014. She is Executive Director of Culture Push, a cross-disciplinary organization encouraging hands-on participation and strong hybrid ideas.